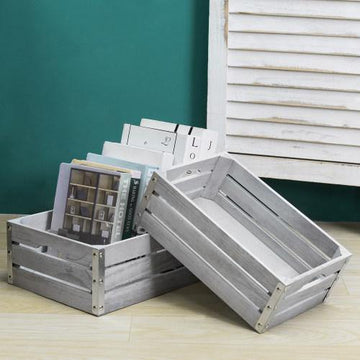 If it isn't obvious by now, storage baskets, boxes, and crates, are the way to go for any shelf, cupboard, drawers, or tabletop space to keep items neatly organized and to add a bit of style to your organization. These practical storage solutions are a virtually inexpensive way to quickly add organization into any space in your home!
Kitchen:
With such a high traffic area, it is important to keep your kitchen items well organized for everyone in the family. Keep produce, snacks, or oils neat and tidy with these kitchen storage solutions.
Kids snacks are a great way to keep food separate and create a space that kids know they can grab healthy and yummy snacks without having to rummage through the pantry. These contemporary Brass Metal Wire Baskets with Wood Base can be used for a variety of spices, condiments, canned goods, and other pantry items to be neatly stored.
Wine, liquor, or beer: If they don't have a specific space can get quickly cluttered and look tacky. Consider a bin with compartments to keep bottles from clashing together like this stylish Rustic Metal & Torched Wood Crate.
Your refrigerator can be another un-utilized space for prime basket storage space. Consider something magnetic to keep coupons, wedding and party invites, or writing utensils easily accessible, and with these Burnt Wood Magnetic Mini Storage Crates, you can have both style and function.
Fruits and vegetables can be stored in wire baskets in a pantry or cupboard to help keep them fresh longer. A stacking design can be great for multiple produce items, but if you are short of space, consider a Rustic Wood & Metal Wall Mounted Fruit Basket to suit your needs.
Living Room:
For a place where most of the family gathers, you want to keep your storage visible yet blend in with its surroundings so baskets and bins don't stick out like a sore thumb, while adding much needed organization.
Remote controls can quickly become lost or clutter coffee tables and ottomans, keep them neatly stored in this Rustic Burnt Wood and Vintage Brass Metal Remote Control Organizer so you never have to look for the remote again.
Blankets and throws are a must have while getting comfy on the couch or cuddling by the fire, keep them neatly rolled up in a Light Gray Wood Nesting Storage Crate, or keep magazines, and books easily available.
Like most living rooms, kids toys quickly take over most spaces. Try a Striped Around Cube Bin specifically for their toys so clean up is easy and it allows kids to keep their favorite toys or books in a central place.
Bedroom:
Clothing, blankets, sheets, and other items can quickly become a nuisance if not proper stored and organized. Think about using baskets in these unique ways to cut down on clutter in the bedroom.
Drawers can easily be a mess of socks, ties and other accessories that are just thrown into a drawer and quickly closed shut. But finding those missing socks or your favorite tee shirt can be simple if you compartmentalize each drawer with dividers and baskets such as these Rectangular Handwoven Seagrass Storage Bins. 
Bathroom:
From toiletries to toilet paper, the bathroom can become a treasure trove for clutter and disarray. Keep baskets and bins in drawers, cupboards, shelves, or even under sinks or hung on the wall for optimal storage in the bathroom, especially if your bathroom lacks storage space to begin with.
Keep extra toiletries like shampoo, luffas and soaps in a Paper Rope Woven Storage Basket allow you to keep inventory of when things are running low and add a chic way to store those boring items.
Cosmetics, face oils and lotions, perfumes and other personal items look great on in a Marble Vanity Organizer Tray or Basket.
Trying to get ready for 2021? Check out our Organization Collection and greet the new year organized and with style!