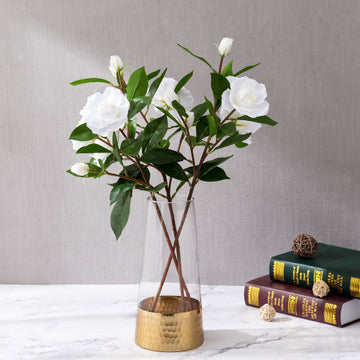 Once you have your room finished and put together, sometimes there still seems like something is missing. Sometimes it is all in the details to tie a space together, and that's where vases can come into play. Vases can essentially go anywhere, bookshelves, coffee tables, mantles, they are great for fresh flowers or even as stand-alone pieces. Vases aren't just for flowers either (although they always do look beautiful in vases), they can be used for a variety of seasonal décor or even as their own individual highlighted pieces. There are a variety of ways to decorative with vases in your home that can elevate your décor to a new level, with these simple tips you can quickly add a fresh and inspiring design to your home décor.
1. Use Planter Stands
Vases are a great way to add height to a space. Even small vases and be propped up on books, crates, or planter stands to give it even more height for different levels to draw your eye around a centerpiece or shelf.  
2. Use Side Tables
Coffee or side tables are a perfect place to house an interesting vase design (or two) that might look out of place somewhere else. Consider a vase with a stand or multiple vase set to create a cohesive, yet striking design.
3. Mount your Vases to the Wall
Sometimes we tend to forget about wall space when it comes to vases, but they are such a unique way to stylize your wall. A floating shelf housed with vases or wall mounted vases create a piece of art as well as stylish décor.
4. Decorate with Fillers and Leaves
Seasonal fillers are another way to add abundance to your vases. Try vibrant eucalyptus or palm leaves for the summer and branches or pussy willow twigs in the fall.
5. Try Air Plants or dried Flowers 
Other fillers can be added to clear vases such as pebbles, floating candles, or creating a terrarium for a personalized look. Try air plants or dried flowers for a very vintage look. This round vase with gold pedestal is a beautiful piece and makes for an elegant added decoration.
6. Go bold
Go bold on your tabletop with a fun pattern, a pop of color, or unique iridescent vase housed with fresh picked flowers or even on its own it's a beautiful piece.
Check out a variety of plants, vases and more HERE and upgrade any space in your home instantly!