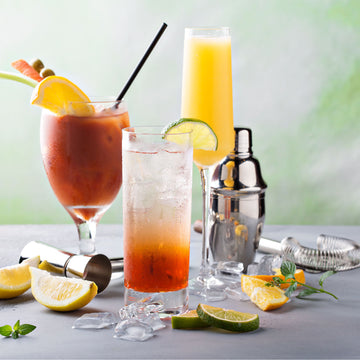 Brunch is arguably the best meal of the day. Usually enjoyed on a Sunday afternoon accompanied by a mimosa or bloody mary, your brunch can be enjoyed with a variety of different cocktails as well. With warmer months approaching, and more reasons to be outside with a tasty cocktail. Brunch cocktails usually comprise of fresh, fruity, lighter, and easier to drink cocktails that get paired with both savory and sweet breakfast menu items. Since brunch is usually enjoyed with friends and family, sometimes pitchers or bowls are an ideal way to go for brunch cocktails. No matter the event, or party quantity, we've got compiled some unique and fun recipes that are perfect for your day drinking and brunch adventure.
Bloody Mary
A brunch classic, you should almost always offer a bloody mary at brunch. You can go as elaborate as you'd like with shrimp cocktail toppers, or as simple as sliced melons and celery sticks. This recipe as a subtle twist on the classic recipe that makes it both tasty and fresh.
Get the recipe at Food and Wine >
Frozen Orange Prosecco
Slushy goodness of freshly squeezed oranges and prosecco will take your mimosas to a whole new level. Make a large batch for friends or family in a blender, or save them all for yourself.
Get the recipe at Foodness Gracious >
Irish Coffee
Coffee, maple syrup, and Irish Whiskey? Yes please. This double pick me up drink even features a homemade whipped cream on top, drool.
Get the recipe at Cookie and Kate >
Brunch Punch
Lots of vodka and bubbly beverage, this brunch punch is perfect for a crowd to get the party started and keep it going. Fresh sliced fruit and mint leaves all topped off with ice and booze.
Get the recipe at Delish >
Sea Breeze
Tart, yet refreshing, made with vodka, cranberry, grapefruit, this laid back cocktail is a staple for your next brunch gathering. Also it's low-calorie!
Get the recipe at A Couple Cooks >
Beer Margarita
We love a classic margarita, but find yourself wanting more? Add a light pilsner-style beer and Tada, the potent and refreshing beer margarita.
Get the recipe at Pure Wow >
Cucumber Collins
Mixed with gin or vodka, enjoy cool cucumbers with lime, for a refreshing summer brunch drink. Garnish with layers of ice and ribbons of cucumber for an impressive design.
Get the recipe at The Spruce Eats >
Dominicana
A variation to the White Russian, this coffee liquor cocktail includes añejo rum with heavy cream, a tasty morning beverage.
Get the recipe at Food & Wine >
Paloma
Salty and zesty, a perfect cooling cocktail in place of those evening tequila shots and garnished with dried grapefruit slices.
Get the recipe at Delicious >
Fresh Bellini
Presecco and fresh peach puree make the perfect combination for this brunch beverage and is a fun alternative to the classic mimosa.
Get the recipe at Cookie and Kate >
St. Germain
Perfect for a classy party, or sipping in your pajamas, a St. Germain combines gin (or vodka) with lemon and sparkling wine, making any occasion instantly elegant.
Get the recipe at Well Plated >
Long Island Iced Coffee
Who needs brunch with this tasty cocktail? Takes only 5 minutes and mixes Baileys, Kahlua, vodka, rum, tequila, and cold brew coffee. We weren't kidding when you could drink this all day long.
Get the recipe at Whitney Bond >
Mandarin Orange Crush
Similar to a mimosa, this cocktail gets its fizz from sparkling water or club soda, with added orange flavor from orange liqueur.
Get the recipe at Dude That Cookz >
Citrus Whiskey Tea Punch
This punch is easy to make and even easier to drink. Lemons, oranges, loose green tea, whiskey and apple brandy, you can't go wrong with this rustic punch, great for brunch or seasonal drinks.
Get the recipe at Vintage Kitty >
Watermelon Frose
Two ingredients (three if you add sweetener), this is the simplest cocktail to make. Frozen watermelon and rose wine thrown in a blender makes a perfectly pink drink for brunch.
Get the recipe at Ambitious Kitchen >
Want to pair your cocktail with the perfect glass? Click Here to check out all our drinkware!