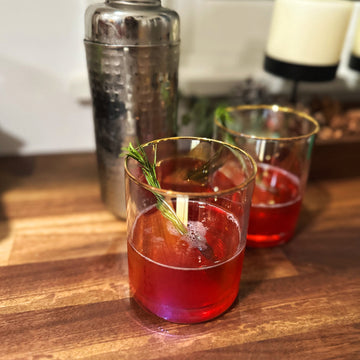 Nothing says happy holidays like a fun winter-inspired cocktail. Whether you are creating cocktails for a ugly sweater party, cozy night in, or casual dinner party, these cranberry whiskey cocktails make a perfect touch of festive flavors and warm feelings. 
Cranberry Whiskey Christmas Cocktail Recipe
2 oz whiskey
2 oz cranberry juice
1 oz rosemary simple syrup
1 cinnamon stick (broken in half)
Rosemary sprig and cranberries to garnish
Add ice and all ingredients to a cocktail shaker. Shake for 30 seconds. Strain into a cocktail glass, garnish with sugar coated rosemary and cranberries.
Rosemary Simple Syrup:
Bring 1 cup of water and 1 cup of sugar to a low boil in a pot. Add 5 springs of rosemary and turn off heat. Allow to simmer for 20-30 min. Place in glass jar to cool with 2 rosemary springs. Remove remaining springs and keep in an airtight container in the refrigerator for up to 2 weeks.
Garnish:
Toss rosemary sprig and cranberries in water and roll in sugar. Allow to dry before garnishing glass.
Shop these stylish Iridescent Lowball Glasses
Shop All Drinkware