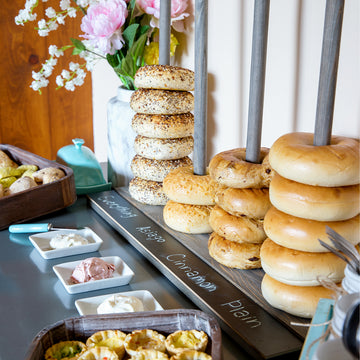 No matter if you are creating a brunch for just your family or hosting a small gathering with friends here are some ideas to keep your brunch simple, yet elegant, with minimal effort, from compiling the menu, choosing the beverages, and stylishly matching that springtime feel with your décor.
The Menu:
Creating the perfect spread of savory and sweet items to match every person's dietary preferences can be a difficult task when it comes to Easter Brunches. One way to please everyone can be a choose your own buffet with enough selection to keep every guest and family member going back for more. If you have a wider audience try a "Build Your Own" station, allowing each person to create their own omelet, bagels, or crepes. Another way to can be having a few option of large trays of baked eggs, one with bacon and sausage, and one with just veggies. We've decided to go with an array of mini quiches with both meat and vegetable options available.
Keep one item as the main dish such as an egg dish, like a frittata, omelets, or quiche, or a pastry item like crepes, French toast, pancakes, or waffles. We went with the bagel station and a selection of different schmears. Be sure to include a fruit salad, or fresh fruit tray, potatoes, along with some pastry items. Our spread includes different mini scones for people to choose from.
The Drinks:
Drinks are an important part of brunch, no matter if they are alcoholic or non-alcoholic, you want to give a variety of beverages to be enjoyed. A good go-to drink is a mimosa, you can create your own mimosa bar full of fresh fruits, different juices and a selection of sparkling wines.
Bloody mary, Bellini, Irish Coffee, or other fun cocktails are a great way to enjoy brunch. But you don't always need a spirit in your drink (although it's arguably better), smoothies can be another great beverage item for all ages to enjoy, along other fruit juices. And remember to always include a water pitcher!
The Serveware:
Make sure each food item is looking its best, by choosing the proper item to display it. We chose a Rustic Gray Wood Donut/Bagel Stand to allow you to easily choose a bagel flavor while giving the table some visual height. If you decide to have an egg dish as your main course, consider an elegant pie dish for a quiche, or floral baking dish for an egg bake. For the side dishes of mini quiches and scones, we went with a set of 3 matching Gray Wood Nesting Serving Trays with Round Edges for a cohesive look that provide different sizes to hold each item. We wanted our serveware to bring a flair of spring colors, so we added pops of baby blue with the Aqua Blue Butter Dish with Cover and Knife, along with the matching White Glass Mason Jars in Vintage Aqua Blue Wooden Box Tray. We used this box tray for silverware, but it could be easily converted for holding spring flowers and bouquets.
To finish off the buffet table set up, we included a White Marble Pattern Flower Vase full of blossoming flowers to add a springtime touch. Be sure to pick a specific color palette and stick with it throughout your tablescape, try classic whites, sophisticated greens, or popping pinks to incorporate into your design.
Our MyGift team is wishing you a wonderful Easter weekend!