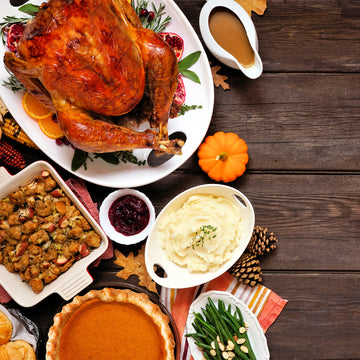 Thanksgiving is a time for gratitude, family, and of course, a sumptuous feast. As you prepare to host this special gathering, one of the key elements to consider is the serving platters that will elevate your table setting. Whether you're presenting the star of the show, the turkey, or displaying an array of delicious side dishes, having the right serving platters can make a world of difference. In this blog post, we'll explore the best serving platters for Thanksgiving, highlighting options for your turkey and a variety of side dishes.
Turkey Platter
The turkey is the centerpiece of the Thanksgiving meal, and presenting it on a special platter is a tradition that adds elegance to the table. Here are some options to consider:
Classic Oval Platter: A classic choice for serving a turkey, an oval platter provides ample space and a traditional look. Look for one made of durable porcelain or ceramic for easy cleaning and an elegant touch.


Carving Board: A wooden carving board can be a stylish and functional choice. It allows you to carve the turkey at the table, adding a dramatic touch to your Thanksgiving feast.


Oversized Platter: If you're serving a large turkey, consider an oversized platter to accommodate it comfortably. These platters often have raised edges to catch juices, keeping your table clean.
Side Dish Platters
Thanksgiving isn't just about the turkey; it's also about the variety of delicious side dishes that complement the main course. Here are some serving platter options for your sides:
Vegetable Platters: For roasted vegetables, consider a long and rectangular platter. This shape allows you to arrange your veggies in an appealing manner and provides plenty of space for each type of vegetable.


Casserole Dishes: For dishes like stuffing, mashed potatoes, or mac and cheese, individual casserole dishes or gratin dishes can be both practical and visually appealing. They can go straight from the oven to the table, saving time and effort.


Divided Platters: Divided platters are perfect for serving multiple side dishes in an organized and visually pleasing way. They help keep flavors separate while ensuring everything looks attractive.
Serving Platter Materials
When choosing serving platters for your Thanksgiving feast, consider the material as well. Each material has its own unique characteristics:
Porcelain and Ceramic: These materials are timeless and elegant. They are perfect for presenting turkey and side dishes with a touch of sophistication. Porcelain and ceramic platters are easy to clean and maintain.


Wood: Wooden platters or boards can add a rustic and warm feel to your Thanksgiving table. They work particularly well for bread, cheese, and carving the turkey.


Glass: Glass platters are a modern choice, providing a clean and sleek appearance. They are versatile and can work well for a variety of side dishes.


Stainless Steel: Stainless steel platters are highly durable and practical. They are excellent for keeping food warm, and their minimalist design complements any table setting.
Thanksgiving is a special occasion where you can show your appreciation for family and friends through a beautifully prepared meal. The right serving platters can help you create a stunning presentation of your Thanksgiving feast, from the turkey to the array of delectable side dishes. When selecting your serving platters, consider the type of dishes you'll be serving and the overall style you want to achieve. With the perfect platters in place, your Thanksgiving table will not only be a feast for the palate but also a feast for the eyes.