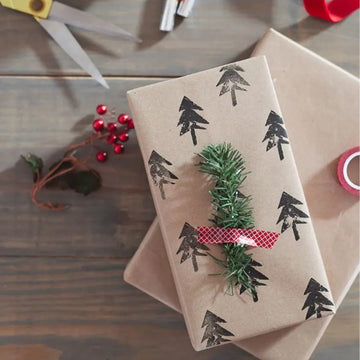 To some, a beautifully wrapped gift is just as important as the gift that is being given. Any one can wrap a regular old present, why not elevate your gift giving vessels this year and go for something both unique, affordable, and reusable.  
Paper Bags & Faux Stems
Who knew something as simple as an old paper bag could look so elegant? This tutorial by A Piece Of Rainbow has us "ooo-ing" and "aw-ing" with Christmas joy.
Dog Bone Gift Wrap
Our four legged friends deserve fun wrapping too! And this milk bone dog treat from Lets Mingle is so simple and adorable!
Wine Bottle Box
How cool is this Wine Bottle Box! It fits two bottles perfectly, while giving your gift a vintage flair that the receiver can use again and again.
Stamped Tissue Paper
This easily goes with any bagged gift, or even as its own wrapping paper. The Crafting Chicks have created a tutorial  perfect for Christmas or any gift giving season.
Water Color Tags
Two Purple Couches has created beautiful gift tags using water color. This is perfect for both adults and kids to give gifts, making them unique and personable.
Star Garland Gift Wrap
Four simple materials and you too can have these adorable star garland gift wrap featured on Pottery Barn Blog. Best part is you can make is even more unique by adding different colored paper, glitter, and other fun additions to an already stunning wrapping job.
Reusable Gift Box
This small Hexagonal Gray Trinket Box can hold any special gift from jewelry, money, to gift cards, while making the box a gift of its own.
Vintage Touch
Any wrapped gift will be immediately elevated by sliding on a vintage pin. Easy to find at estate sale, thrift stores, or your grandmother's home, these added gift ornaments can make a big impact.
Potato Paper
The long standing DIY of potato stamping is still just as easy and fool proof as before. Cut out snowflakes, stars, or Christmas trees like Fresh Mommy Blog has done here to give you Christmas gifts a very homey feeling.