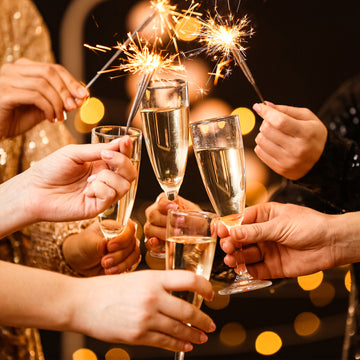 Nothing says New Years Eve like champagne, yes it's great for toasting, but champagne can also be the perfect cocktail component for sipping beverages until the clock strikes midnight. We've compiled a list of cocktails that have utilized sparkling wine, prosecco or champagne in the most unique and delicious ways.
The perfect combination of gin and bubbly champagne, the French 75 adds a lemon twist to your drink.
This drink says NYE like no other, with edible glitter, a lemon twist, its perfect for any festive occasion.
Who knew champagne and stout beer go well together? It makes for a unique flavor, perfect for the holiday season.
Muddled mint, lime, rum, topped with champagne, think mojito with sparkling wine, yes please.
Inspired by the French 75, this cocktail comprises of pear-infused gin and roasted peach honey syrup.
Fresh raspberries, oranges, pomegranates, and champagne? Its both refreshing and tasty.
A cranberry champagne cocktail, the poinsettia is the perfect holiday beverage for your menu.
Refreshing, bubbly, and cooling, the Hugo cocktail makes a unique NYE drink.
The perfect winter champagne cocktail is a mix of apple cider and sparkling wine.
A twist on a classic cosmopolitan with a touch of sparkle and bubbles.