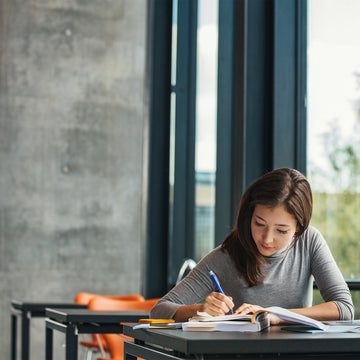 The beginning of a new school year marks a fresh start and offers an opportunity to set goals and strive for personal and academic growth. By establishing clear objectives, students can enhance their motivation, focus, and overall success. We've gathered 10 effective ways to set goals for the new school year, empowering students to make the most of their educational journey.
Reflect on past experiences: Before setting new goals, it's essential to reflect on your previous academic year. Identify areas of strength and weaknesses, and consider what worked and what didn't. This reflection will provide insights into the areas you want to improve and enable you to set meaningful goals.
Be specific and measurable: Setting vague goals like "do better in school" can be challenging to achieve. Instead, make your goals specific and measurable. For example, aim to achieve a certain grade in a particular subject or complete a set number of extracurricular activities. Clear goals provide a roadmap for success.
Set short-term and long-term goals: Break down your goals into short-term and long-term objectives. Short-term goals allow for incremental progress and provide a sense of accomplishment along the way. Long-term goals provide a bigger picture and help maintain focus and determination throughout the school year.
Prioritize your goals: With numerous opportunities and responsibilities in school, it's crucial to prioritize your goals. Identify which objectives are most important to you and align with your aspirations. By focusing on the most significant goals, you can allocate your time and energy effectively.
Make them challenging, yet achievable: Goals should stretch your capabilities, but they should also be realistic. Set targets that challenge you to grow and improve without overwhelming you. Striking the right balance between difficulty and attainability will keep you motivated and engaged throughout the school year.
Break goals into actionable steps: Large goals can seem overwhelming when viewed as a whole. To combat this, break them down into smaller, manageable steps. By breaking your goals into actionable tasks, you can more easily track your progress along the way.
Create a timeline: Setting deadlines and creating a timeline for your goals is vital for accountability and staying on track. Having a schedule helps you allocate time wisely, avoiding procrastination and last-minute stress. Additionally, it allows you to measure your progress and make adjustments if necessary.
Seek support and accountability: Share your goals with a trusted friend, family member, or mentor who can provide support and hold you accountable. Discussing your objectives with someone else fosters commitment and provides an external perspective. They can offer encouragement, guidance, and help you stay motivated during challenging times.
Track your progress: Regularly monitor your progress towards your goals. Keep a journal, use a checklist, or track your achievements digitally. Seeing how far you've come can boost your confidence and fuel your motivation to keep pushing forward. Adjust your strategies if needed, but remember to celebrate each milestone along the way.
Stay flexible and adapt: While setting goals is crucial, it's equally important to remain adaptable. Circumstances may change throughout the school year, and your goals may need to be adjusted accordingly. Embrace the ability to adapt and be open to new opportunities or challenges that may arise. Flexibility ensures that you stay focused and continue to grow, even in the face of unexpected changes.
Setting goals for the new school year is a powerful way to channel your energy, motivation, and ambition towards personal and academic growth. By following these ten effective strategies, you can establish clear objectives, maintain focus, and make the most of your educational journey. Embrace the new school year with enthusiasm and determination, and watch as you surpass your own expectations. Good luck!