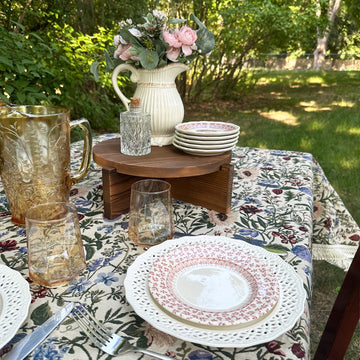 Hosting a garden party in your backyard can be a delightful and memorable experience. Whether it's a small gathering with close friends or a larger celebration, here are some steps to help you plan and execute a successful garden party:
Plan the Date and Time: Choose a suitable date and time for your garden party. Consider the weather forecast, and opt for a season when the weather is favorable for outdoor gatherings.
Invitations: Send out invitations well in advance. You can use traditional paper invitations or go for digital options like email or social media invites. Make sure to include essential details like the date, time, location, dress code (if any), and RSVP information.
Garden Setup and Decorations: Spruce up your backyard to create an inviting atmosphere. Consider adding some garden furniture, outdoor rugs, cushions, and fairy lights for a cozy ambiance. Use flowers, lanterns, and candles to enhance the decor. Make sure there's enough seating and shade for your guests to relax comfortably.
Refreshments and Food: Plan a menu that suits the setting and time of day. You can go for a casual barbecue, picnic-style finger foods, or a more formal sit-down dinner. Consider dietary restrictions and preferences of your guests when selecting the menu. Have a variety of drinks available, including water, non-alcoholic options, and alcoholic beverages if appropriate. You might also set up a designated drinks station or a refreshing lemonade stand.
Music and Entertainment: Create a playlist or set up a music system for background music. Choose music that complements the ambiance and the mood you want to create. If you have musically inclined friends, consider inviting them to perform or organize other entertainment options, like lawn games or a karaoke session.
Weather Contingency Plan: Always have a backup plan in case of unexpected weather changes. You can rent a canopy or gazebo or have an indoor space available as a backup option if needed.
Consider Comfort: Ensure your guests' comfort during the party. Have bug repellent and sunscreen available for them to use. If it gets chilly in the evening, provide blankets or encourage guests to bring layers.
Parking and Accessibility: Think about parking arrangements for your guests. If you anticipate limited parking space, suggest carpooling or nearby parking options. Make sure your backyard is accessible to all guests, including those with mobility challenges.
Cleanliness and Safety: Before the party, make sure your backyard is clean and free from hazards. Remove any potential tripping hazards, ensure that the garden is well-maintained, and check for any sharp objects or dangerous items. If there's a swimming pool, ensure safety measures are in place if guests will have access to it.
Be a Gracious Host: During the party, greet and interact with your guests, making them feel welcome. Ensure everyone is comfortable, and facilitate introductions between guests who may not know each other.
With these steps in mind, you can create a delightful garden party that your guests will enjoy and remember fondly.