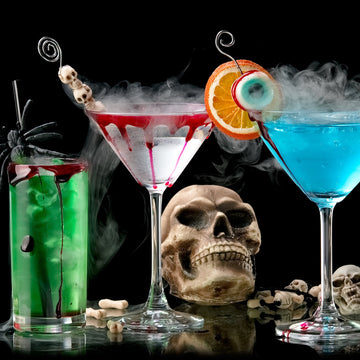 Sure, candy may take center stage as far as Halloween goodies go, but these ghoulish grownup treats give candy bars a run for their money. Whether you are planning a large Halloween Bash, staying in and greeting trick-or-treaters, or cuddling up with a thriller flick, these cocktails will make your event a lot tastier.
Looking for the perfect drinkware to pair with your spooky concoctions? CLICK HERE to find all our drinkware perfect for Halloween.
White Widow
Ingredients
1 ½ oz gin
1 oz heavy cream
1 oz coconut water
½ oz ginger cardamom syrup
½ oz fresh squeezed lemon juice
½ oz fresh squeezed lime juice
1 egg white
Black gel icing for garnish
Instructions
Combine all ingredients in a cocktail shaker but DON'T add ice. Shake for as long as you can (at least 100 shakes), then add ice to the shaker and shake again until chilled. Pour into a coupe or martini glass and wait for foam to form. Use black gel icing to draw four consecutive circles, then drag a toothpick through the icing in lines that go outwards to create the spiderweb.
Diabolique
Ingredients
1 ½ oz Vodka
¼ oz Cointreau
¼ oz fresh pineapple juice
¾ oz fresh lemon juice
½ oz Crème de Mure blackberry liqueur
Instructions
Put all the ingredients apart from the Crème de Mure in a cocktail shaker. Top with cubed ice and shake. Fine strain into a highball glass, then add a cap of crushed ice. Drizzle with Crème de Mure and garnish with fresh mint.
The Grave Digger
Ingredients
2 oz hard cider
1 oz whiskey
Ginger ale
Crushed ice
Instructions
In a 12-16 oz oz tumbler or high ball glass, combine hard cider and whiskey. Fill the glass with crushed ice. Top with ginger ale.
Sour Frankenstein Cocktail
Ingredients (serves 4)
6 oz tequila
½ cup water
1/3 cup simple syrup
4 limes juiced
1 cucumber sliced
½ tsp salt
Fake Blood
½ cup corn syrup
5 drops red food coloring
¼ cornstarch
Instructions
Start by freezing glassware to ensure it is cold. Make fake blood syrup by mixing all ingredients together in a medium sized bowl and freeze for 15 min. Using a blender, blend water limes, cucumber and salt until well mixed. Strain using a fine mesh strainer, add simple syrup and stir well. Rim each glass with fake blood and drizzle slight down the sides. Add 1.5 oz of tequila to each glass and a handful of ice and top with margarita mix.
Witches Brew
Ingredients (serves 4)
½ cup vodka
1/3 cup lime juice
¼ cup raspberry liqueur
3 drops purple food coloring
Lime slice & sugar for rim
Instructions
Combine lime juice and purple food coloring to plate and dip glass rim and then into sugar. Add ingredients to a cocktail shaker, add ice. Shake until cold. Pour into prepared glass.
Children of the Candy Corn
Ingredients
1 oz Mezcal El Silencio Espadin
1 oz Smuckers Butterscotch syrup
1 oz pumpkin puree
.75 oz maple syrup
1 oz pineapple juice
1 whole organic egg
Instructions
Place all ingredients except the egg inside a shaker tin. Stir all of the ingredients together until they are incorporated evenly. Add the whole egg to the shaker tin. Place a spring or protein shaker ball inside the shaker tin. Dry shake the ingredients (don't add ice) vigorously for 30 seconds. Fill the shaker with ice and shake vigorously for another 30 seconds. Fine strain into a chilled coupe glass. Garnish with a flamed orange slice.
Vampire's Kiss
Ingredients
1 ½ oz vodka
1 oz Chambord
½ oz 100% unsweetened cranberry juice (not sweetened or cranberry juice cocktail)
½ oz fresh lemon juice
½ oz grenadine
Granulated sugar and additional grenadine, for sugar rim (optional)
1 small dry ice cube (optional)
Instructions
To prepare the rim add sugar to one plate and another with grenadine. Spin the rim in the grenadine then dip in sugar until it is coated. Add vodka, Chambord, unsweetened cranberry juice, lemon juice, and grenadine into a cocktail shaker. Add 2 handfuls of ice and shake until cold. Strain drink into prepared glass. Add dry ice.
Black Magic Margaritas
Ingredients
1 tbls black sanding sugar
2 oz silver tequila
1 oz triple sec
¼ cup lime juice
Red, blue, & green food coloring
Lime slices for garnish
Instructions
Rim two glasses with a lime slice and dip in black sanding sugar. Add tequila, triple sec, and lime juice to glass, stir to combine. Add food coloring until desired black color is achieved. Add ice and garnish with a slice of lime.
Pumpkin Old Fashioned
Ingredients
2 ½ oz bourbon
2/3  oz maple syrup
1 tbls pumpkin puree
1-2 dashes black walnut bitters
Orange peel, cinnamon stick, and a bourbon cherry for garnish
Instructions
In a cocktail shaker with ice, combine bourbon, maple syrup, pumpkin puree, and bitters. Shake vigorously. Add ice to a rocks glass, stain cocktail mixture. Squeeze orange peel over the top of the glass to release the oils; then rub the peel around the rim of the glass. Garnish with orange peel, cinnamon stick, and bourbon cherry.
The Blackberry Raven
Ingredients
2 oz dark lambrusco
½ oz dry sake
¼ oz Chambord
¼ oz lychee juice
¼ oz lemon juice
Instructions
Pour sake, Chambord, lychee juice, and lemon into a shaker with ice. Shake vigorously. Add chilled lambrusco to cocktail shaker and stir. Pour into frosted glass.