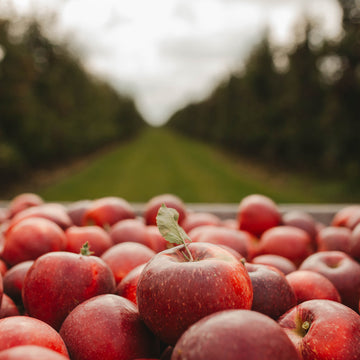 Apples, apples, and more apples! If you haven't made your way to an apple orchard this year, now is the time! Although that 3 lbs or 10 lbs bag of apples might be sitting on your counter as you wonder what to do with all the delicious honey crisp, pink ladies, and galas, don't worry, we've got you covered.
We've gathered some delicious apple inspired recipes to really get use out of all those apples you've picked and fill your home with that perfect fall smell as apple scented aromas mull, bake, and sizzle.
Great for breakfast, lunch, snack, dessert, basically any meal of the day, this bread only takes about 30 min to make and combines cinnamon, brown sugar, and granny smith apples for the ideal fall loaf.
Vodka, ginger beer, and honeycrisp juice is not only fall-inspired it's refreshing as well. You start by making your own honeycrisp apple simple syrup, and the rest
Oven baked apples, topped with homemade caramel sauce, and tossed with walnuts, almonds, and rosemary sprigs, I think we've found our fall favorite recipes. With all these delicious fall flavors it's hard to believe its gluten, dairy, and grain free.
A hearty and flavorful way to start your chilly fall day is with a bowl of apple cranberry oatmeal. Packed with fresh apples, dried cranberries, orange, zest, pecans, and seasonal spices, pair this oatmeal with any yogurt, milk, or ice cream.
Toss apples, chicken, onions, and seasonings into a slow cooker and let the delicious aromas fill your house. This recipe is perfect for pairing with fall root vegetables such as roasted potatoes, parsnips, or even putting on a freshly baked roll.
This is a go-to recipe every year, its super simple and festively delicious. Its perfect for adults and children, although we do like to make it more adult and add spiced rum to it, shhh!
A flakey buttery crust, filled with apples, brown sugar, and cinnamon, sprinkled with coarse sugar, pure heaven. Although you can make your own puff pastry, this version calls for the refrigerated kind for an easier recipe, but just as yummy!
Crisp, savory, with a hint of cinnamon sweetness are amazingly delicious and simple to make for any appetizer.
Moist and rich in flavor, these donuts will have your mouth watering from the first look. Using both apple cider and apple sauce, you can make your own, or go for the pre-made versions.
This one pan recipe brings all the fall flavors into one dish, with a touch of fresh thyme, cinnamon, garlic, and seasonal veggies. Best part it only takes 30 min to make!