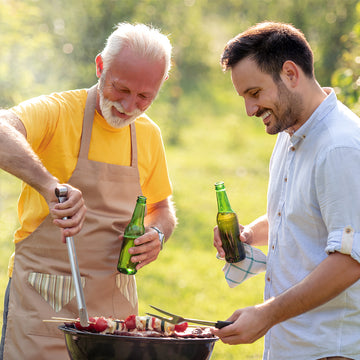 What better way to celebrate Dad than grilling some of his favorite foods up and relaxing with a beer and family. Why not shake up some of the classic grilling recipes, and wow Dad will your culinary skills with these main course, sides, and dessert ideas, all on the grill.
Main Course
Via Martha Stewart Living
Even with simple beef burgers, adding the right toppings can make your burgers go from bland to gourmet. This recipe features buttery brioche buns, horseradish and sweet grilled onions, for the perfect burger combination you're sure to return to.
Via Today
Who doesn't love a good steak, but who says it always needs to be with mashed potatoes? This hanger steak is incorporated with light greens, grilled corn, and Cotija cheese, along with southwestern spices for a refreshing and inviting salad even Dad will love.
Via The Spruce Eats
Marinated with garlic, lime, orange marmalade, and hot sauce, this sweet and spicy combination will transform your shrimp to the perfect main dish, while keeping Dad's waistline trim.  
Via My Gourmet Connection
What is Father's Day without a little bit of whiskey, and what better way to enjoy it than with smoky, slow-roasted, grilled to perfection, baby back ribs. These flavorful ribs will pack a punch, but don't worry, you can do a non-alcoholic version with apple juice instead.
Sides
Via Weber
Jalapenos filled with cream cheese, topped with parmesan and wrapped in bacon…need we say more? These jalapeno poppers make a great side or appetizer and are perfect bbq addition.
Via Today
A perfect vegetarian side option, these sweet potato wedges are the perfect combination of sweet and savory. You can easily swap out sweet potatoes for any root vegetable such as russet potatoes, parsnips, carrots, or beets.
Via Country Living
Appetizer on a stick? Yes please. This unique spin on tomato, basil, mozzarella comes the gourmet, grilled flavor forward version.
Via Damn Delicious
Crips, tender, with a lemon-y butter finish, these grilled zucchini rounds will go with any main dish and are simple yet delicious.
Desserts
Via Gimme Some Oven
Perfect topped with a large scoop of vanilla ice cream, delicious rum, brown sugar, and cinnamon mixture is positively delicious. Don't forget to drizzle with extra rum sauce.                                   
Via Food & Wine
Make Dad feel like a kid again with these adult version s'mores. Sandwiched between two graham crackers is the unstoppable banana Nutella duo, combined with marshmallow flush and hazelnuts.
Via Taste of Home
Crisp fruits tossed with delectable granola and cinnamon, all cooked in the grill in a cast-iron skillet, Yup Dad will love it.
Via Southern Lady
Pizza doesn't always need to be topped with sauce and cheese, grilled fruits, crème fraiche and orange zest can be just as tasty for a Father's Day dessert sure to make him ask for a second slice.