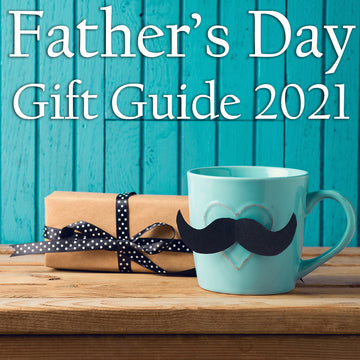 With Father's Day inching ever closer, it may be time to start thinking up some useful, thoughtful and memorable gifts for dad. We know every father is unique and sometimes that means it can be a hard task to pinpoint their unique interest and hobbies. We've come up with an exceptional list of Father's Day gifts, with a little bit of everything for your husband, dad, grandpa, or any father figure in your life to help find that perfect souvenir.
The On-The Go Dad
He's always commuting to and from work, or weekend bike rides, so get him a way to store and showcase his bicycle at the same time this Burnt Wood & Industrial Pipe Bicycle Hanger.
The Kid At Heart Dad
Nothing says being a kid like making paper airplanes, with the PowerUp Paper Airplane Kit, you can control this paper airplane with your smartphone and start doing loops, barrel rolls, and gliding through the sky.
The Competitive Dad
A game made from an old Nordic tradition, this outdoor Kubb Viking Clash Toss Game Set is the newest addition to your outdoor game sets. Included is a carrying case so you can take this set with you to the park, the beach, or camping trip.
The Gourmet Chef Dad
An easier and more portable way to make pizzas than a traditional pizza oven, this Ooni Koda Pizza Oven is the perfect backyard accessory. Perfect for anything from pizzas to calzones, in just 60 seconds, this pizza oven makes outdoor cooking simple and delicious.
The Always Organized Dad
Just like everything else in his life, Dad's nightstand is always well organized, but why not step it up a notch with this Watch Case & Dresser Valet. Perfect for keeping everything from wallets, spare change, to charging cell phones or headphones, this valet is the perfect beside accessory.
The Never Misses A Cup Of Coffee Dad
Even when he's backpacking or enjoying the outdoors, this guy never misses his morning brew. The BruTrek 48oz French Press makes it easy to enjoy freshly brewed coffee anywhere you go. With its insulated body and easy-grip handle this French press is both rugged and sophisticated for the trail or the kitchen.
The Fitness Dad
Not just a mirror, it is also a personal trainer. With every type of workout and a large library of classes, this Mirror by lululemon is the perfect fitness gift for the dad who trains and gains.
The Meat-Lover Dad
Tenderize anything from lamp chop to beer steak with the JY Cookment Meat Tenderizer. With an ergonomic handle and 48 stainless steel needle blades, you can reduce cooking time and allow savory marinades and juices to fully incorporate into your meat.
The Whiskey Connoisseur Dad
Perfect for swirling and sipping fine whisky's these Crystal Whiskey Tasting Snifter Glasses will bring a sophisticated touch to Dad's whiskey tasting. The wide-base lets you swirl and add oxygen to your drink, further enhancing the taste and smell of each sip, and tulip design adds elegance to his drinking experience.
The Well-Groomed Dad
Everything Dad needs to keep his beard cleansed, conditioned and styled is in the Scotch Porter Ultimate Beard Collection. Made with key ingredients such as avocado seed oil and jojoba seed oil, this serum is the key to keeping his beard frizz-free and shiny.
The Business Dad
If suits are his go-to attire, consider the perfect way to layout his outfit for the workday or his next important meeting with this Brown Wood & Metal Suit Rack. Set with a top hanger for shirts and jackets, and a bottom hanger for slacks, so they stay wrinkle-free and conveniently at the ready.
 The Handy Dad
For the dad who fixes everything around the house, this CRST Extension Cord Reel is perfect for small and large projects both indoors and outdoors. The convenient retractable cord can support up two 3 devices at the same time, making this extension cord the new go-to tool.
The Gamer Dad
He loves his Xbox, Playstation, and Nintendo, but has he tried the Frogger Retro Arcade Game? Literally a portable keychain version of the classic game Frogger, this hand-held 80's game fits in the palm of your hand, perfect for waiting in long lines or boring work meetings.
The New Dad
Some new father's might not feel as prepared for the new baby as other. But with The Dad Hoodie, he can anticipate any diaper change, snack time, or bottle feeding and always be prepared. With over 4 mesh interior pockets and comfortable tri-blend fleece material, this will be his new everyday hoodie.
The Sports Enthusiast Dad
Perfect for storing and displaying anything from soccer balls to basketballs, this Freestanding Burnt Wood & Black Metal Wire Ball Rack will keep all his favorite sports equipment stylishly stored. Whether he's storing games for playing soccer on the weekend with the kids, or showcasing his game winning college ball, this sports ball stand will be a great addition to his collection.
The Recovery Day Dad
For the dad that is always at the gym, give him a day of rest, relaxation and recovery for those hard-working muscles. Perfect for melting away tension and releasing soreness, the Theragun will keep Dad relaxed and ready for his next day at the gym.
The Jet-Setting Dad
Always ready for his next business trip or spur of the moment vacation, the traveling dad should always have the best carry-on luggage, and he can with this Everywhere Bag. Its functional interior organization system and water-resistant material, this bag is ideal for any jet-setting Dad.
The Nostalgic Dad
With retro design and Bluetooth capabilities, dad can have the best of both worlds with this Muzen Audio mid-century style radio and excellent sound quality for listening to his favorite tunes.
The Fashion Forward Dad
Made with organic cotton with a super-soft feel, this Secret Wash Print Shirt will have the most fashion forward Dad looking dapper, while helping the planet.
The Green Thumb Dad
Not your typical tool kit, this Gardening Tool Set has everything dad needs to keep his garden looking fresh and well maintained. Lightweight design with durable stainless steel, these garden tools will keep dad happy in the garden for hours.
Click Here to check out even more Father's Day gift ideas