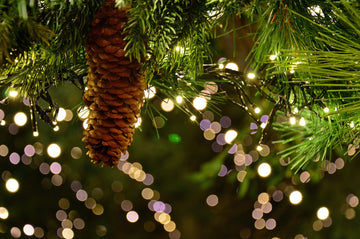 When decorating for the holidays garland can be one of the easiest and most impactful ways to adorn your home. With so many types to choose from, and so many ways to use it, the possibilities are endless!

We gathered up some Instagram posts for you to get some of those #garland ideas flowing.
Lets start at the front door
This grand arched doorway is accented by pinecones, fruit, and greenery.
 
A farmhouse porch wrapped and ready for the holidays with balsam boughs.

Addition of gold bells help ring in the holidays.
Spruce up the staircase
Instead of wrapping the banister, decorate the base of the stairs with fresh eucalyptus and pinecone ornaments .

A twist on the traditional with added colored beads and black & white bows.

Try something different by adding silver and gold pinwheels and faux foliage.

Dress the mantle
Beads, bells and berries help drape this dramatically stunning mantle.

Star garland adds a touch of whimsical charm to this holiday scene.

Asymmetrical drama with live pine, juniper, and cedar greens with citrus woven in.

Draping doorways
Simple and fresh, cedar boughs bring the right amount of green 

White florals and magnolia leaves add elegance and sophistication

Merry and bright colorful velvet ribbons bring magical cheer.