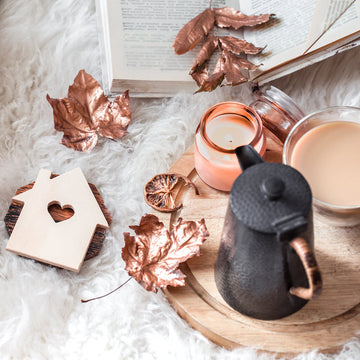 With the winter months and longer nights upon us, more time is spent at home and indoors. Here are some ways to keep warm, cozy, and entertained during those colder days and nights.
Warm Yourself Up
Keeping yourself warm is the first step to the perfect coziness level.
Blankets & Throws
Blankets aren't just for your bed, make sure to have several fluffy, furry, or plushy blankets and throws at the ready near your couches, sofas, and chairs too. An electric blanket is also a great idea to keep you at the proper level of cozy and warm.
Slippers On
Keep your feet toasty and warm all winter long by keeping a pair of slippers by the door to slip on right when you get home. When your feet are cozy, the rest of you will soon feel it too.
Bath Time

Nothing beats a nice warm bath after a cold winter's day. Add a few drops of essential oils into the bathwater to help deepen your relaxation.
 
Cozy Up Your Space
Make your living space the perfect atmosphere for coziness and warmth with the few of the tips below.
Layer Your Rugs
Keeping warm starts under foot with soft surfaces and lush textures. Swap out flat weaved rugs for higher pile ones or simply layer smaller soft rugs onto your existing ones. Strategically place them in spots that will heighten the cozy factor and will create the biggest impact, like next to your bed, under the coffee table, or in front of your favorite chair.
Warm and Soft Lighting
Nothing can make you feel cozier than the right lighting. Of course, the glow of a fireplace is warm and inviting, but you can achieve that in other ways too if you don't have one. Lamps can create a welcoming atmosphere that makes you want to snuggle up especially when paired with a warm soft white light bulb. Twinkle lights, candles, or lights from your Christmas tree can also bring in that homey glow.
Bedding
Make your bed your winter sanctuary. Switch to flannel or jersey sheets, make sure to have layers of blankets at the ready, and bring a quilt or fluffy throw into the mix too. Being comfy and cozy in bed can make you not even want to get up on those cold winter mornings.


Warm Up Your Belly
Food and drinks are comfort for the soul! Warm your heart and your stomach with some of these cozy suggestions.
Baking

There's nothing better than the smell of freshly baked cookies or bread. The warmth of an oven and the smell of freshly baked goods can create a homey and cozy environment like no other.
Warm Drinks

Another way to warm yourself from the inside out is with cozy winter drinks. Hot chocolate, mulled cider, dark-roast coffees, peppermint teas, or hot cocktails just to name a few. Even just holding them can create a warm and cozy feeling.
Soups, Stews and Chowders

Cold nights call for a hot bowl of soup. With so many soups, stews, and chowders to choose from you could have a different one every day all winter long.


Indoor Activities
Now that we have created such a cozy space what kind of fun can we have in it?
Puzzles and Games
Spend quality time with others playing board games or spend those long winter hours doing a jigsaw puzzle.
Movie Marathon
Warm up the normal movie nights by creating pillow forts, making homemade popcorn and watching those feel-good movies that will bring the cozy right in through the screen.
Cozy Up with a Book
Curl up in your favorite spot and read that book you've been wanting to or break out some children's classics and read them out loud to your family and friends.