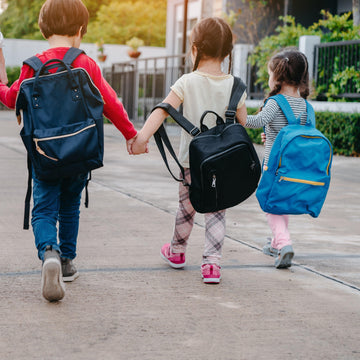 How to get organized this school year
This back-to-school season may feel different than most. Some kids will be staying home for remote learning, while other will have new classroom setting in combination with distance learning, or other goes back to school full time. No matter what this school year looks like, one thing will be the same, for mom, dad, students, and teachers, it will be important to stay organized everywhere in your home to make this school year a breeze.
1. Keep Your Desktop A Work Space 
Your desk is an important place to get most of your homework or paper grading done. Without proper office organization, desks can become a catch-all for toys, after school snack wrappers, and other odds and ends.
Once a week, be sure to go through items around your desk that are not important or relevant, this will make sure you are ready for the week to come with a clean and clutter-free workspace. Essential to keeping desks well organized is finding the perfect organizer for your needs. Limited on space? Look for something that will stack or can be mounted on your wall. Have lost of writing utensils and office supplies? Consider something with a lot of compartments, or that rotates or expands to better suit your needs. The best part is that you do not have to give up style for storage. Most organizers can seamlessly blend into your office decor or make a bold statement, so your desk does not get boring, and keeps showing your personality.
2. Leave A Paper Trail
Important documents can easily get strewn about and forgotten when there is not a specific place for them to be kept.
Whether its study material, children's school projects or syllabuses, having a designated office space can help you keep track when needing to pull back out important papers.
Consider stacking document trays for convenient vertical storage on desks or counter tops.
A rolling cart for hanging file folders for portable organization can be great for larger spaces, while stationary file cabinets are ideal for office specific rooms. Also keep in mind your walls are another great place for racks to be kept when floor or desk space is limited.
Accordion folders can also be great for kids to keep track of their own assignments and projects, while taking up minimal space on their desk or in their backpacks.
3. Keep Your Schedule Visible
Sometimes, households can be busy and chaotic. Keeping a visual representation of everyone's schedule can help reign in that chaos and keep everyone accountable.
Try creating a command center to keep your household running like a well-oiled machine. Cork-boards, chalkboards, dry erase boards, and calendars are all great ways for keeping track of appointments, notes, and reminders. Add colored coordination for specific tasks, or for each person, so duties can be easily viewed and accomplished. Let kids add stickers when they complete a task for a fun incentive for chores and homework assignments.
4. Create a Functional Entryway Space
Do not let your entryway become the place where shoes and backpacks are dropped off and never cleaned up. Create a space for each specific item, baskets for shoes, hooks for backpacks and jackets, having these spaces available (hopefully) means kids can easily put things away in their own specific cubicles.
Another fun way is adding chalkboard labels for each child's name or adding color specific baskets or hooks of their favorite color, you can even add a cute sign to help them remember to "Leave their shoes at the door". Having a bench is another great way to add designated space for taking shoes and rain boots off to ensure they do not track unwanted dirt and clutter into the home.
5. Get Your Morning Routine Down
This can be a big undertaking, with sleepy kids (and parents), and various schedules. Having everything organized and ready to go the night before can make a big difference when come to early wake up calls. Keep these tips in mind to try and speed up the morning routine and get everyone out the door on time.
Refrigerator/Pantry: Keep snacks and lunch items stocked and efficiently organized with specific bins and labels for kids to make their own lunches or pick out snacks. Keep fruit cups in one bin, protein in another, grains, and dessert in others, so they make sure they have a balanced lunch but get some variety and have fun making it themselves.
Closets: Have kids plan out their outfits for the entire week so waking up in the morning is not a struggle of "what should I wear today". Parents, this goes for you as well! Add labels for each day of the week and place them in a drawer or hanging organizer for easy to view outfits.
Check our back to school collection for inspiration to return to school organized!