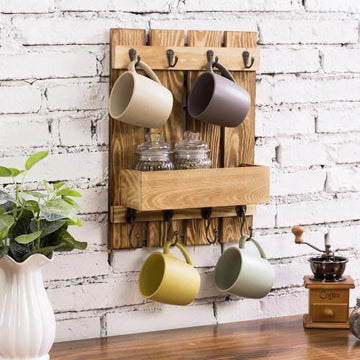 Whether you have a small kitchen or have empty walls full of potential, there are so many ways you can maximize your wall space for efficient storage. Get those drawers uncluttered and cupboards reorganized and utilize those blank walls with stylish storage solutions.
Shelves:
Shelving might be one of the simplest things to add to your kitchen wall but can make a huge difference when it comes to organization and storage. These can come in handy for cookbooks, measuring cups, that fine china from your grandmother or even personal decorative pieces. The possibilities are nearly endless with a good exposed kitchen shelf.
Check out these products
Spice Racks:
Cooking can get messy enough without having to take up more countertop or cupboard space, wall mounted spice racks are a perfect solution. No need to skimp on the style either, choose something that will match your kitchen design or make a bold statement. Be sure to choose something that will sufficiently hold all your spices or condiments so that no spice is forgotten.
Check out these products
Wine Racks:
If you don't have a wine fridge or excessive counter space, these delectable bottles of vino can get cluttered quick. Opt for an eye-catching storage solution sure to wow all your wine enthusiast friends and dinner guests. This combination of rustic torched wood and matte black metal is perfect for a small wine collection and stylish décor.
Check out these products
Mug Storage:
The last thing you want to do in the morning is rummage through your cabinet looking for mugs and coffee beans just to get a fresh cup of joe. Leave room for other glassware in your cupboards and try out a fun mug display board, shelves, or shadow box for featuring your favorite mugs.
Check out these products
Pots, Pans & Cooking Utensils
Make your go-to pots, pans and spatulas easily accessible on your wall! These items easily take up a large amount of space whether it is in a cupboard, drawer or kitchen counter, so making them hang on your wall is the perfect solution. A rack with removable or sliding hooks usually works best to accommodate different sized pots and pans.
Check out these products
Hanging Baskets
These are great for a variety of items that don't seem to have a specific place or take up too much of it. Keep dish cloths, fresh fruits and vegetables or spices and other pantry items you use the most. You could even use them for snacks for kids, oils or cutting boards.
Check out these products
Entertaining Station
Think rolling bar cart but on the wall. All your important bar items can get cluttered and stored in various places, so why not make a stylish way to store them all, in a wall mounted fashion. Store wine and cocktail glasses, along with spirits and shakers, anything you'd need for a cocktail party or wine night and make your wall the new life of the party.
Check out these products