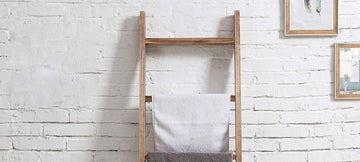 We had the great privilege of partnering with one of our friends here in the Seattle area to renovate a home guest bathroom. Livi, from the XOLivi.com blog, decided to renovate and upgrade her bathroom, and the results were eye-popping. 
Tastefully using some of MyGift's in-house, directly produced local home products, she adorned her guest bathroom with some of our favorites, introducing a warmer, rustic farmhouse style look that looks inviting and comfy, just as a guest bathroom should be. 
Check out her entire bathroom makeover
If you love the look, find the products directly on our page by hitting the link.
Leaning Towel Bar Rack in Rustic Gray Wood
Industrial-style toilet paper holder 
What do you think of Livi's bathroom makeover? Let us know, or browse our shop to find more cute and charming bathroom decor!