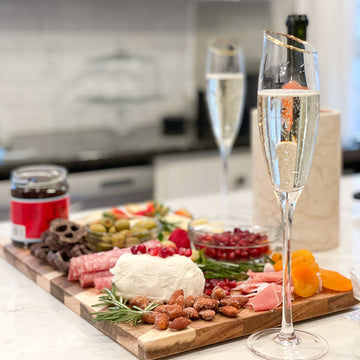 The perfect snacking tray for any type of party is a charcuterie board. What is a charcuterie board you ask? It is a bit different than just a regular cheese board, which is a selection of cheese and foods that pair well together, while a charcuterie is a display of cured meats and foods that pair well with them.
Originated in France, the word translates to "pork-butcher shop", although more modern charcuterie boards include a variety of cheeses, crackers, nuts and more. Recently charcuteries have gained popularity for party platters or fancy appetizers or even main courses at restaurants, usually paired with a delicious wine.
Creating the perfect charcuterie board can be intimidating, with so many salted meats and cheeses to choose from. Looking for a place to start? Look no further, we've got you covered from simple platters to elaborate spreads, for your next party, event, or Friday night.
The Platter
The best place to start is probably the type of tray or board you will be using to build your charcuterie on. Popular choices are wood, marble, or slate, and can be square, rectangular, or round. Consider the amount of people you will be feeding and how many varieties of meats and cheeses you will be serving. Typically, a 20x12 size board will feed about 10 people, but you can also create multiple smaller boards for a larger crowd or smaller boards with more produce for a more budget friendly option.
The Meats
A good place to start is with the meats. You are wanting a selection of salted pork mainly, think prosciutto, salami, but feel free to add ham, and sausage as well. These can be displayed layered, rolled, or if you choose to go even fancier, as a budding rose. Just make sure they are easy to put on your plate.
The Cheeses
You want to try to include a variety of cheeses. This usually involves a goat, cows, and sheep cheeses and can vary from hard to soft. The best cheeses for your board: brie, aged cheddar, goat, blue, gouda, and stilton. Again these can vary dependent on your guests or preference of cheeses.
The Crackers
The vessel for your board is just as important as what you are placing on it. You want your guests to have 2-4 options of sturdy crackers or breads to choose from. You can go with a simple salty version, a grain, or even an herb cracker.
Jams, Nuts & Fruit
These offer a fresh element from the meats and cheese and a pop of color as well. A good route to go for fruit is whatever is in season. Summer fruits include apricots, strawberries, grapes, blackberries, and raspberries, in the Fall try apples, cranberries, figs, and pears. Dried fruits another good option that are available year-round. Cashews, walnuts, and almonds are always a solid choice for nuts, and go crazy with flavors of sweet, spicy, or savory. Jams pair well with certain cheeses, subtle flavors like apricot, or even a spicy jam goes well with both soft and hard cheeses.
Bowls & Ramekins
These are perfect vessels for holding honey, jams, nuts, olives and other filler items. Be sure to choose the right size for the right item. A small bowl for almonds might go quickly and require you to refill it often, so keep jams or dips that might not need as much attention. You can really play with color and shape with bowls to add some drama and style to your board.
The Decorations
Consider using fresh herbs like rosemary sprigs, thyme, or even edible flowers for some color and elegance.
The Assembly
Place your bowls on the board first to build around, then consider how you will be serving each cheese. You can pre-slice, cube, or allow guests to slice their own cheeses. Soft cheeses like brie are ideal freshly cut by the eater, where harder cheeses might be easier to pre-cut. Spread the meats and cheeses around the board, don't keep them all clumped together. Separate with the additions of crackers and baguette. Once the essentials are in place, fill in the gaps with both fresh and dried fruits, add the garnishes of herbs or edible flowers, serving knives and ta-da its finished! Now go enjoy!