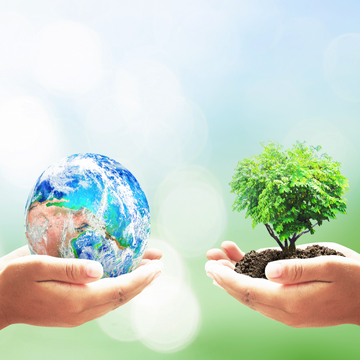 With Earth day fast approaching, now is a great time to reflect and appreciate how important our Earth is. Whether it's helping out in your community, your environment or even your own home, there are ways to show our gratitude to Mother Earth and celebrate Earth Day this April 22nd and every other day of the year.
Spend Time Outdoors
Take a walk around your neighborhood, go on a hike, go to a state park, or simply spend time in your backyard. Bring along snacks or a picnic to make sure you don't get hungry and also a great way to really stop and appreciate nature.
Plant a Garden: Plants flowers around your yard, start a vegetable or herb garden, or simply add plants to your indoor space. Indoors or outdoors, adding flowers and greenery to your space and help attract other important insects like bees, or even make your home a little more self-sustaining with growing your own food.
Recycle
If you have not started to recycle your plastic, glass and aluminum products now is your chance! Be sure to check with your local municipality to see if they offer recycling programs if you don't already have it in place. Take stylish bins, small garbage cans or anything you choose to sort your recycling and create fun labels for "paper", "plastic", and "glass" you can also reduce your waste by purchasing more eco-friendly packaging.
Switch From One-Time-Use Products
Not only will this save you money, but it also helps save the Earth by not filling up landfills.
Compost
Take those banana peels, coffee grounds and eggshells and put them to good use. Use your compost in your garden or to help nourish your lawn and plants. Check out NRDC.org for more tips and tricks on composting.
Host A Celebration 
There can be a variety of fun ways to celebrate Earth Day with friends and family. Be sure to carpool or walk to cut down on emissions.
Natural Products: Gather your favorite natural products from skin care to cleaning products to share with others. Offer fun gift baskets or gift cards to your guests to help people change their home to a more natural one
Tasty Treats: Make globe cookies, mud & worms, ants on a log, and so much more
Potting Station: Let everyone pot their own flower or herb