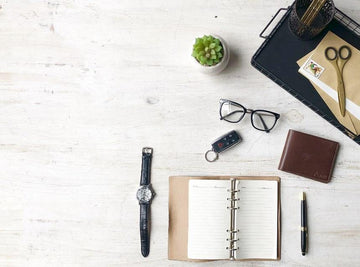 Dads are special, they are one of a kind. They are the ones who taught you to ride a bike, weekend camping or fishing trips, baseball games and so much more. You want to get the perfect gift that's both useful and cool, which leaves the looming question, what do I get the greatest Dad for Father's Day? Well we've created a list to suite any dad and help show your appreciation to your #1 Dad.
Black or with cream and sugar, this manual grinder, pour over coffee maker and fuel-can inspired coffee will keep dad alert and going all day long.
Gadgets and new technology are his thing, this Smart Light Dimmer Switch is a great way to tech out everyday things. Useable with Amazon's Alexa, Dad can show off his new tech toys to everyone.

Craft beer and home brews are becoming more and more popular. For the dad that's constantly coming up with his own new beer flavors while brewing or carefully selecting only the tastiest ales around, this flight paddle will do the trick. Four different shaped glasses pertain to different styles of beer to be tasted from each specific glass.


This compact hammock is the ultimate gift for the outdoors enthusiast. Easy to set up and pack away, this hammock can be taken on hikes, backpacking or camping trips for relaxing. The double-hammock lets two people enjoy the relaxation and sturdy tree mounts let you hang it almost anywhere.

Neat, on the rocks, with a splash of water or mixed with vermouth, no matter how your dad likes his whiskey having the perfect receptacle can take the drinking experience a whole new level. The unique faceted edges and jagged design add style to its contents.

Keeping dad fashionable can sometimes be hard, but for those dad's that know their style, this fun banana peel short-sleeve button up can take his dressing game up a notch.
The ideal way to travel is with a comfortable and easy to maneuver carry-on, which is exactly what the Away Carry-On comes in multiple colors, ejectable battery charger, TS-approved lock with 360-degree rotating wheels.

Throw it back to 1960 with this portable vinyl record player with built in speakers. It even has a headphone jack when really wanting to be immersed in the sound.
This watch storage box and valet tray will keep the dapperest of dads organized and staying classy. Perfect for bedside tables or dressers to keep personal items stashed away while not in use.
This 20-piece grill set is for the most avid grillers. With premium tongs, skewers and basting brush, this is the perfect gift all wrapped in an aluminum storage case.
The Gym Rat Dad
For those Dads who love to get their sweat-sesh on, the Nike Free X Metcon 2 are great for both gym sessions and running. With comfort and durability, your dad is about to crush those fitness goals.

Classy and practical, this polished silver and navy blue MVMT men's watch will keep the time while staying stylish. A timepiece has never looked for good on a dad.
If comic books, video games or Magic the Gathering are his thing, think of a fun t-shirt that will match his favorite past times.
Nothing says "thanks dad for all the delicious meals" quite like a cast iron pan set. 8", 10" and 13" pans take help make any beginner or intermediate chef's cuisine simple and yummy.
Fishing has been the iconic dad pastime (after baseball of course) and something many children have experienced with their father or new dads will experience with their children. This Simple Fly Fishing Tenkara Fly Rod is great for the avid fisher or novice.
For the construction, wood working and handyman in your life, think about taking the classic and making it even simpler. This Digital Tape Measure will make sure measurements are accurate and even has a long and short term memory to keep track of measurements.
What can be more natural than your own mushroom growing kit? This Shiitake Log Kit will give you that fresh, foraged taste all year long.

This ultimate beard kit comes with everything your dad needs to stay clean and sparkling. Beard comb, brush, balms, creams all come in a convenient travel bag. Not only do you get a variety of grooming items, with a monthly subscription you can get them replaced every month so dad never goes anywhere not smelling great.