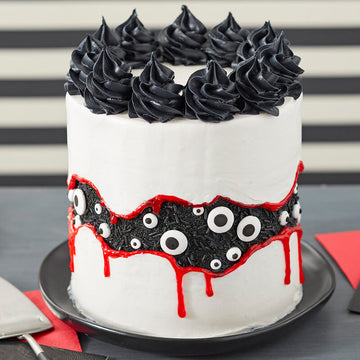 Along with trick-or-treating, spooky cocktails, and pumpkin patch excursions, baking is another fun Halloween activity that goes with this eerie holiday. We've gathered some fun, delicious, and frightening cakes sure to wow guests and create a delectable centerpiece. Slice into any one of these delicious cakes instead of candy to satisfy your sweet tooth and show off your baking skills.
Adorable monster face will delight all ages. This recipe calls for any boxed cake of your choice and shows you how to decorate your cake to cute perfection.
The perfect combination for fall is pumpkin and cheesecake, and this recipe doesn't let down. A graham cracker and pecan crust with pumpkin puree, ginger, nutmeg and cheesecake hits all the fall notes.
Piped ghost meringues with a decadent espresso chocolate cake, vanilla buttercream and chocolate ganache, everything you want in a deliciously rich chocolate cake.
If you aren't already salivating, we'd be surprised. Chocolate cake covered in apple cider salted caramel, chocolate coating, with a snickers frosting, drool.
Classic buttermilk cake with butter cream frosting topped with seedless raspberry jam "blood" that slowly oozes when cut into. The top features a transferable edible fondant tattoo design for an elegant and perfect decoration.
Perfect for kids or a crowd, these cauldron mug cakes take 90 seconds in the microwave and you can top with purple and green frosting, pretzels, eyeballs, and Halloween sprinkles.
An upscale dessert perfect for both Halloween or Thanksgiving that isn't overly sweet, but still hits all those fall flavors.
A signature Halloween bake is the graveyard cake, this recipe incorporates freshly brewed coffee, bittersweet chocolate chips for those chocolate cravings.
This recipe calls for any cake batter and explains how to make a Faultline cake in detail for a unique Halloween optical illusion sure to grab anyone's eye.
A twist on a classic roll cake, this striped pumpkin cake adds a spiced pumpkin flavor to the bake with fluffy mascarpone filling, perfect for fall.
A licorice spider has spun a web of chocolate ganache atop a creamy and addictive no-bake cheesecake with chocolate wafer crust, pure deliciousness.
Oozing with raspberry jam "blood" and red velvet ganache, classic white cake and vanilla bean buttercream, this sickening sweet dessert won't only spook it will be tasty as well.
These mini festive cakes are not only cute, they are super easy to make and topped with green buttercream frosting. Best part, they are vegan and can be made gluten-free as well.
We can't decide if this brain cake makes us hungry or grossed out…but either way the smooth red velvet cake, marshmallow fondant and raspberry blood make this cake a perfect creepy treat.
Release your inner candy-lover and harvest fall colors for those perfect layers of delicious cake, that's more sweet than spooky.