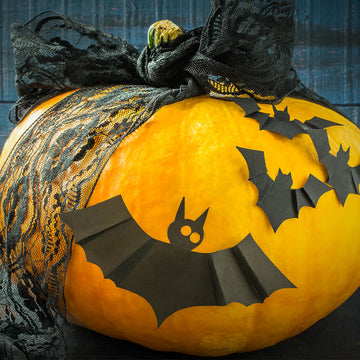 With Halloween just around he corner, you might be starting to think about ideas for carving up your pumpkins. But sometimes the carving, cleaning, cutting and scrapping can seem like more of a hassle than its worth, especially with younger kids around. We've rounded up some no carve ideas for everyone to decorate their pumpkin this Halloween season, adults and children alike.
Paint A Pumpkin
One of the best types of paints to use is acrylic paints, it gives it a matte finish, its quick drying and easy to use as well. Chalkboard paint is another paint to use, or even spray paint for all over color or unique effects. Consider using a washable paint or painting pens for kids, since acrylic can stain clothes.
Add A Silhouette
Find any spooky, delicate, or movie-themed scene in black and white that you can easily print, cut and paste onto your pumpkin. Marthastewart.com has some unique silhouette templates for free such as these black cats, mice, and flowers.
Foliage & Flowers
Find any organic nature material such as leaves, acorns, flowers, stems, or moss around your yard (or at your local craft store) and go to town! Glue pieces to your pumpkins or you could even create a vase with your pumpkin for these items to be displayed.
Sticker It Up
Any Halloween or shape stickers will do, nowadays they even offer so many options for jack-o-lantern faces to make your own face or design that you can paint over and peel the stickers off or create a unique design all it's own.
Push-In Decorating
Another easy way to involve kids and get a more cultivated or themed pumpkin can be push-in designs. These come in specialized characters or spooky-inspired faces.
Temporary Tattoos
No need to get the needle out, temporary tattoos will stick to pumpkins similar to your skin. Best part is the possibilities are pretty much endless for what theme or design route you decide to go with your themed pumpkin.
Mummy Pumpkins
One of the easiest ways to decorate a pumpkin is with toilet paper. Get some googly eyes and wrap your "mummy" pumpkin in 3-ply and you've got a spooky and simple jack-o-lantern.
Glue Everything
Think pom poms, googly eyes, jewels, construction paper, or anything you have lying around the house that kids can glue and stick to their pumpkin. This is a fun way to let kids be creative and get rid of some random things around your home.
Add Bugs
Not real ones, unless you're into that, but plastic ones. Glue or pin centipedes, beetles, spiders, or cockroaches to your pumpkin for a creepy crawly design.