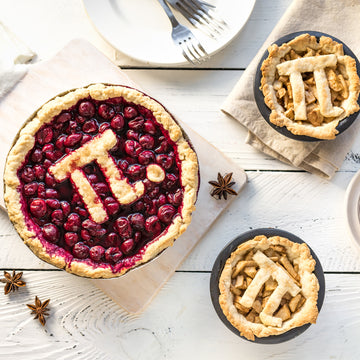 It's almost that time again where every math fanatic is gearing up for the best day of the year, March 14th. Everyone will be decorating their pizza pies or apple pies with the iconic pi symbol, but this year, dare to be different with your pi day recipes. Whether you are looking for a meal on the go or an alternative to a traditional slice of pie, these hand pies are the perfect combination of convenience and childhood memories. But no need to wait until Pi Day to whip up these delicious recipes of both sweet and savory hand pies, they are great any time of the year.
Sweet
It is a classic for a reason, warm and spicy apple pie filling inside a pastry shell, it's the perfect ratio of filling to crust in our opinion.
Juicy peaches meets soft and flakey with this summer dessert, all drizzled with a touch of almond flavor icing to really top it off.
Filled with tart lemon curd and perfectly portioned, these bite-sized desserts are a buttery, flakey deliciousness.
The epitome of summertime, these s'mores hand pies combine the classic combo of chocolate and marshmallows into a slightly less messy puffed pastry pocket.
Berries are always a hit inside any crust, and hand pies are no exception. This combination of two tart and robust berries are amazing.
Savory
A Mexican take on a hand pie, these pies combine 2 kinds of cheeses, jalapenos, tomatoes and beef for an authentic Mexican dish feel.
Who doesn't love a good pot pie? This one takes a classic recipe and puts it in your hand, literally.
All the ingredients are listed, but these savory and satisfying hand pies are packed with the most delicious ingredients we could think of – tomatoes, onions, olives, feta cheese, and fresh herbs.
Chances are you've had this delicious Greek dish and didn't even know it, but for this flakey spinach pie, it is packed into perfect little pouches.
Yup everything you want in a delicious curry: warm spices, chicken, savory vegetables, all packed into a puff pastry, great for lunches, dinners, or on-the-go snacks.