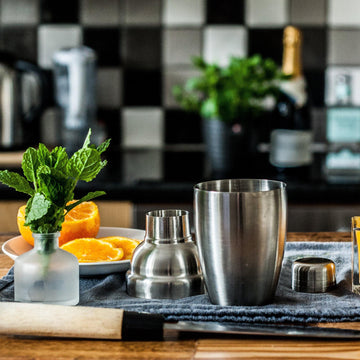 With social gatherings minimizing, and many bars still closed or at 50% capacity, why not make your home the next "It" spot for the perfect cocktail, relaxing brew or savory wine. Don't worry, you don't need to buy out the liquor store and snatch up every gadget, start small and build from these basics to customize your very own at home bar.
Check out our Home Bar Decor and Accessories for some inspiration!
Determine The Space
First you need to find out where this bar will be going and what it will look like. Do you want a bar cart that you can move around if need be for parties? Limited space means a good wall mounted bar or mini version of the cocktail bar. Or are you going all out with a full-size countertop, barman and back bar? Once you've determined the size and space it will make planning for what you'll need a bit easier. If its smaller, forgo some of the more eccentric items, whereas if you've got unlimited space try something new and exotic to had to your bar repertoire. No matter what your bar looks like you need to make sure you have ample space for the essentials. Countertop-style space for making quick drinks or pouring drinks is essential when it comes to your bar. Consider adding a stand-alone table for just this reason or add multiple shelves or tiers to keep one space clear for creating and serving. If all else fails, designate a cupboard or countertop space in your kitchen for your liquor to be easily retrieved.
Be Well Stocked
Everyone has a different acquired taste when it comes to alcohol, so there isn't a wrong answer for which basic spirits you'll need for you home bar. Stock your bar with two or three bottles of your favorite spirits and try branching out from there. Some of the basics that you may consider are whiskey, vodka, gin, rum, brandy, and tequila. The great thing about these spirits are they make some of the most classic cocktails such as margaritas, old fashions, or gin & tonic. As far as mixers go, try again with the classics: club soda, tonic water, a sweet or dry vermouth, bitters and simple syrup. Keep some lemons and limes handy, since these are very common go-to garnishes and citruses for drinks.
The proper drink in the proper glass can make or break your cocktail game. Try starting off with some pint glasses, a set of wine glasses, highball glasses, martini glasses and old fashioned glasses. These will take you a long way for some of the classic cocktails you'll create to the elaborate ones you'll concoct.
Have The Right Tools 
A few basic tools you'll need will help creating and mixing much easier on you. While a lot of bar sets include everything you may need, try to get these essential tools: Shaker, strainer, jigger, muddler, and cocktail spoon. If you have more space and plan on having your own separate bar space, consider keeping a juicer, knife and cutting board, peeler, napkins, and toothpicks in the same area as your bar. Consider investing in a mixologist recipe book if you are just starting out or looking for new recipes. Remember a bar isn't all liquor and liqueur, its beer and wine as well, so include bottle and wine openers to your list of must-have tools.
Start small 
Remember start small and start slow, your home bar doesn't need to be a sprint, it's a marathon of perfectly curated tastes and tools to your specific needs, but also have fun with it!
Check out MyGift's assortment of Drinkware and Wine Racks and Storage or get some inspiration for Home Bar Decoration!