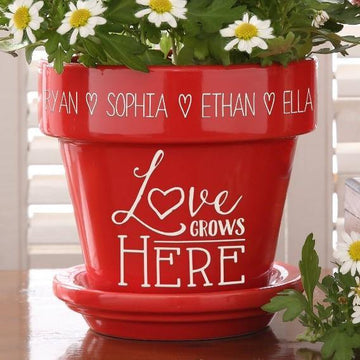 Finding the perfect gift that can encapsulate how much you love and appreciate your mom can be daunting. With so many different moms out there it's hard to pinpoint one specific item for every mom. We've compiled a variety of gifts to help inspire some ideas that will let you bring a smile to your mother's face on her special day.
Birthstone Pendant necklace is a way to represent her birth month or her children's.

Personalized Flowerpot is a great way to bring a individual touch to traditional flowers. Family names can be printed around the rim of the pot so your mother can be reminded of her wonderful children.
 
A motivational book of Inspiring Women is great for the entrepreneur and strong mothers out there.

Let your mom relax and rejuvenate with hydrating Honey Potion. The hydrating face masks helps give a youthful appearance and revitalizes your skin, something every mom can use.

Taking all those tattered notecards or cookbooks and creating a personalized recipe book full of family secrets and childhood dishes is ideal for the chef of the house.

Denim Jumpsuit for the fashionable mom. Both classy and comfortable, this simplistic jumpsuit can be glammed up with jewelry and cardigan for an evening out or with relaxing flats for an everyday look.

For new moms, or moms with a posse, handmade Mother's Love Mug with printed baby animals are perfect for coffee drinkers. Stamps come in geese, bears, elephants or deer to match any mom's personality.

Perfect for the mom on-the-go, or one in need of a good foot rub (which is every mother), a Foot Massager can be the perfect gift that keeps on giving.

Two-day gift giving of multi-colored tulip flowers and gourmet dipped strawberries. Your choice of when they arrive with personalized note and vase, there's no better pair than flowers and chocolates for mother.

A gift with a cause, the Citizens of Humanity Graphic Tee gives back to help make "pregnancy and childbirth safe for every mother", while being stylish and spreading support.