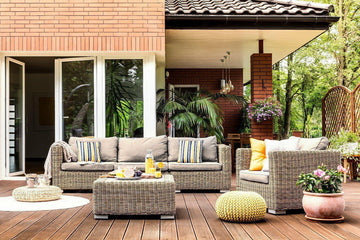 Whether you have a patio, porch, fire escape or sprawling woods, your backyard is a great way to host guests, spend time with family, or hang out for some quiet time. Knowing where to start can be tough, so we've collected some of the best ideas to help you get going. 
Here are 6 ways to transform your outdoor space to a warm and relaxing oasis.
Greenery: Adding potted plants to an outdoor space can add touch of life no matter if there is already natural plants or concrete. Potted plants are ideal because they can be easily moved and potted and is a great way to add greenery if you have more arid environments or soil is hard to come by. If you are looking for a lower maintenance plants, succulents can be a great addition, or something even easier, artificial plants. Adding faux ferns, eucalyptus or even cactus in decorative vases or planters can add freshness without the hassle.
Lighting: Outdoor lighting keeps the party going well after the sun goes down. Solar powered lights are a great option for sunny areas or portable lanterns for more covered ones. Hanging lights are a fun option in almost any space, ones that can be plugged in or with a battery pack where power outlets are limited.
Seating: Adirondack, folding or poofs, there are a variety of ways to add seating to your outdoor space no matter how large or small. Creating a specific place to go will entice you to choose outdoors over indoors for reading, lounging or simply soaking up the rays. If you have a large space, a patio set can be the way to go, but if you have a smaller or shared space, folding lawn chairs, or even having camping chairs on hand can give you a comfortable seat in a pinch.
Tables: Large tables are great for having guests or family to dine at while smaller pieces are ideal for conversations and more intimate settings. Side tables or folding tables are great options for limited space. All types of tables are great for decorative items or most importantly holding cocktails.
Privacy: Have a shared space? Garden trellises or outdoor screens are a great way to add privacy but also keep a relaxing environment.
Make It Your Own: Adding bird feeders, wind charms, garden gnomes or rain chains can really elevate your outdoor space and make it feel more like your own. Adding welcoming and memorable items can help entice you to spend more time outdoors.