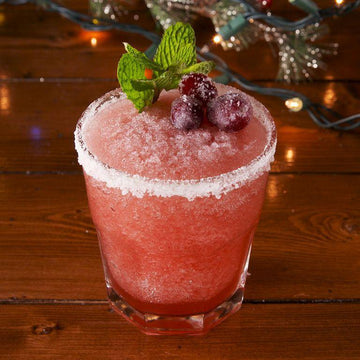 There is more than just champagne to be enjoyed on New Year's Eve and what better way to ring in the new year than with some fancy cocktails. We've taken some of the most classic cocktails and given them a twist to keep your New Year's party going until the stroke of midnight. Here is our list of fun and easy cocktails to make for you and guests, with exciting drinkware to match.
The Classic Champagne
If you go the classic route of pouring sparkling wine, champagne or cider consider adding fresh fruit to the mix or simple syrup for a brand-new flavor. Our choice is the French 75, you can't go wrong with a lemons, champagne and gin.
Recipe: French 75
Drinkware:
Gold-Tone Hammered Champagne Glasses | Rose Gold Tilted Champagne Glasses | Gold Rimmed Stemless Champagne Flutes
Winter Sangria
Fresh aromatic fruits and spices in a tangy red wine add the perfect touch to the new year's evening. Easily made for a crowd, these drinks incorporate that wintery feel with orange slices, cranberries and cinnamon sticks.
Recipe: After Midnight Sangria
Drinkware:
Modern Tilted Silver Stemless Wine Glasses | Etched Holiday Wine Glasses | Holiday Tree Wine Glasses
New Old Fashioned
Simple yet effective, putting a spin on the classic cocktail, this apple cider old fashion turns classy into a New Year's party ready drink.
Recipe: Apple Cider Old Fashioned
Drinkware:
Hatch Rocks Glass | Alpine Snowflake Glasses | Whiskey Snifter Tumblers
Mistletoe Margarita
Cranberries and lime combined with tequila, you can't go wrong. This festive drink can be both blended and served on the rocks for the perfect midnight kiss concoction. 
Recipe: Mistletoe Margarita
Drinkware:
Gold Rimmed Hammered Glasses | Santino Recycled Margarita Glasses | Wilshire Highball Glasses
Mulled Wine 
Since the 2nd century, mulled wine has used to help people stay warm in the winter cold. Now a days it's still used to fight the chill, but also to be enjoyed during the holidays with an updated spin with elder-flower, cinnamon sticks and cider.
Recipe: White Mulled Wine
Drinkware:
Dublin Mugs | Hot Drinks Glass | Cathy's Concepts Irish Coffee Mugs
What's your favorite cocktail?
What's your favorite New Year's Eve Cocktail to serve your guests? Which secret ingredients give it the final twist?
Searching for the right drink ware to present your favorite cocktails? Click here to check out more serving and kitchen accessories to make this New Year's Eve get-together the best one yet.