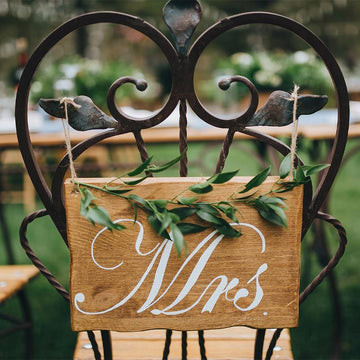 Planning a small, intimate wedding? Or are you ready to tie the knot, but COVID-19 interrupted your plans for having a large guest list?
No matter if you have to cut the guest list, get married at home instead of a wedding location, or start wedding planning from scratch: Rustic home decor is perfect for a small outdoor wedding, just for you, your future spouse, immediate family, and maybe close friends.
Self-Care Station
With the necessity of keeping your hands clean these days, consider adding a small station for having hang sanitizer, wipes, and masks for your guests to stay safe. A rustic whitewashed A-frame chalkboard with shelves is perfect for creating a station with all your needed necessities. Maybe add some mosquito spray or sunscreen if you'll be having an outdoor ceremony or reception. Consider adding small stations close to tables and in the bathroom area as well.
Single Serve
Single serve snacks and drinks are perfect for small weddings. This way, you can minimize leftovers and guests and grab snacks and make their way to the dance floor or mingle (while social distancing) with other guests, without having to hover over the dessert table.
Serve a variety of single bottles or cans of beer, wine, and water for guests. Be sure to add individual packaged snacks or after dinner buffet for guests to sober up and have a quick snack to go.
Cake Pops
Skip the elaborate wedding cake and opt for small cake pops or individually packed donuts! Not only are they just as tasty (and often less expensive) as a huge cake, but they can often be different flavors and colors to match everyone's taste buds and your wedding colors. Local bakeries often craft the most beautiful cake pops and can even be fun themed ones as well.
Natural wedding decor
If you've gone ahead and decided to have your wedding or ceremony outdoors, adding rustic wedding decor is perfect for keeping a natural look while adding an elegant touch. Mason Jars can be used to hang lights, as centerpieces, filled with your favorite beverage or with lemon slices and your favorite farm flowers make for a stunning display.
Crates
Rustic wood crates  can be easily turned into cake stands, seats, boxes for gifts and cards, planters, or a backdrop for a selfie station. Reuse them at home after the festivities are done for a reminder of your special day.
Better safe than sorry
Getting married during COVID-19? Safety comes first: Authorities might request you wear masks during the event. It is important to clean before, during, and after the event - so use plenty of disinfection in the bathroom, doorknobs, and on every high touched surfaces and traffic areas.
Please always refer to CDC and your local authorities for any questions about what kind of events are allowed, and your community guidelines.