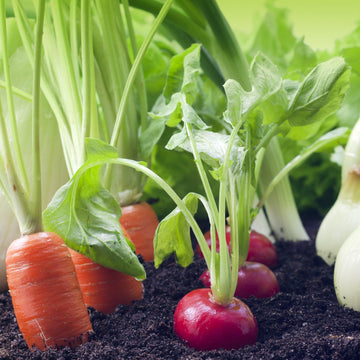 If you're looking to grow your own vegetables but don't have the space, we have you covered with a variety of ways to have fresh produce at your fingertips, no matter your living situation.
Choosing A Planter For Your Space: Depending on the type of plants you will be growing, your pot will need to accommodate. Most plants require somewhere between 4-12" of potting soil, depending on the plants, while keeping in mind your space. Most herbs, radishes, basil, salad greens and chives all do well in 4-5" of soil, while beets, potatoes, lemongrass require closer to 10-12''.
Plastic Rattan Hanging Basket | Hexagon Cement Wall Mounted Planter | Galvanized Hanging Planter Pots
Wall/Hanging Planters: When you have limited space you can try using a wall planter for keeping your greens. Easily attached to most all surfaces, or hung from any nail, hook or screw, hanging and wall planters provide space for plants to grow without taking up patio, deck or lawn space. If you have space for a rail planter, these work great for saving space as well.
Galvanized Steel Round Tub | Cement Rectangular Planter | Barrel Cement Planters
Large Planters: Consider having one large planter for a variety of plants that grow well together. Some vegetables grow better together than others, such as potatoes grow well with beans, squash, peas and cabbage, while cucumber can be planted with radishes, beans and corn. Be sure to do a bit of research to make sure all your plants thrive.
Corner Wood Planter Shelf | Small Planter Rack | Plant Display Shelves
Plant Rack: Utilize your vertical space and get a plant rack for multiple tiers of placement for potted plants. Freestanding or tabletop, they can add addition space so you can hold and grow even more plants.
What Plants Do Best: Some plants thrive in planter while others do not do so well. Figure out what plants you will utilize the most and check out this list of plants that will be great to any planter pot.
Beans: This includes bush beans and pole beans, meaning one that grow happily without any support and others that enjoy climbing up a pole or a trellis
Beets: While they do require 10-12" of soil, they grow very well in pots and are very easy to maintain.
Peppers: They enjoy sunny and warm places to grow, but anything from jalapenos, Thai, bell and other pepper varieties can be grown in pots.
Lettuce: One good thing about lettuce is you can grow a variety of greens and they grow well in small shady places. Green leaf, romaine, spinach, arugula, butterhead, loose leaf, these are just a few of the different lettuce plants you can grow.
Tomatoes: Most tomatoes do best in large containers with supports or cages. They do require a lot of sunlight and regular watering.
Onions: Green, white, yellow or red, onions do very well growi ng in containers. They like loose well-draining soil and grow very fast.
Cucumbers: Although requiring regular watering, cucumbers are a very fast-growing vegetable and do well with soil and planters that retain water. Similar to tomatoes or beans, they can be grown as a bush or vine, depending on the outcome you desire.
Eggplant: These heat-loving plants do wonders in pots. They do like full sun and
Radishes: They grow very quickly and love being in pots, since they don't need much space to grow. They don't like direct sunlight but do require a lot of water.
Herbs: Basil, oregano, rosemary, thyme, mint, parsley, almost anything you'd love to add to a fresh dish you can easily grow in a pot.
Combination Planting: For smaller grow areas, consider combination planting. It makes for a beautiful assortment and can make growing produce easier. Keep plants that need similar light and watering routines in one pot, or you can do themed pots such as Italian, spicy, pickling.
Go For These Combinations:               
Lettuce, herbs, carrots, radishes, parsnips, beetroot
Spinach, chard and onion
Beans, carrots, peas, leek, onions, squash
Tomatoes, basil, onions, carrots
Beetroot, broccoli, onions, brussels sprouts, swiss chard
Onions, carrots, parsnips, lettuce, cabbage
Avoid These Combinations:
Beans with odorous vegetables like onions and garlic
Tomatoes with root vegetables
Onions with beans and peas
Carrots with dill and fennel