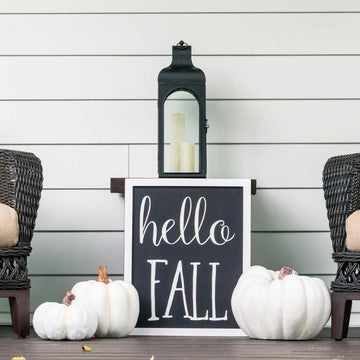 As the leaves begin to fall and the air starts to become brisk, you can feel the change of season in the air. A great way to invite the transformation is by changing up your home décor to suit the mood and feel of autumn. Not only does this create a warming, cozy home, but a change of decor can make your guests feel right at home as soon as they step in the door. 
Here are some ways to redecorate your home for the autumn season
Throw Pillows & Blankets
Swap out your bright blues and sunshine yellows for more neutral earth tones. Adding a variety of colors, textures and patterns to your couches, armchairs or bedding can be the perfect fall touch your space needs. Chunky knitted blankets add warmth and comfortability to chilly spots in the house.
Red Corduroy | Faux White Alpaca Fur | Woven Wool Blend Checkered Pillow
Bring the Outside In
Gathering leaves, branches and other foliage from your yard can create the perfect arrangement for your tabletop. Place them in vases, planters, bowls or carefully scattered around other fall décor.
Diamond Textured Planters | Dark Gray Glass Vase
Gold Flower Vase | Green Glass Vase 
Decorating Chalkboards
Create the perfect fall scene or quote on your erasable chalkboard. Adding a chalkboard to your mantle, or shelves can increase texture and depth while adding a fun element.  A natural wood or whitewash finish also adds rustic décor to your space. The best part is you can make something new every week as the weather changes or as your mood strikes.
Assemble Your Gourds
Not only to gourds make delicious fall meals, they make great centerpieces as well. Place them in a simple vase, baskets or directly on the table for a touch of nature. If you aren't into putting real squashes on your table, opt for decorative artificial ones like Wool Harvest Pumpkins or these Pumpkin Mix Gourds.
Seagrass Storage Basket | Pure White Ceramic Vase