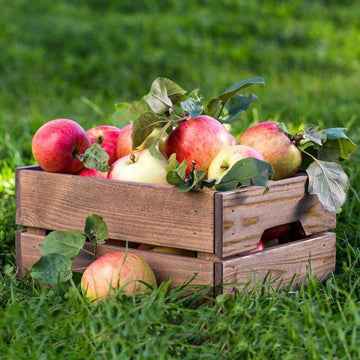 Nothing says fall more than cozy sweaters, pumpkin spice everything and going apple picking on a crisp October day. For many once the apple picking is done there is an abundance of apples left over with little known what to do with them all. There are the basics, apple cider, apple pie, and applesauce, but there are so many fun ways to use your cultivated treasures. Apples can be used in any dish of your fall spread, from breakfast, to the main course to the dessert. We've come up with a few ideas to utilize your apple in new ways.
A delicious alternative to apple pie, with the same great taste, this breakfast quinoa bowl will keep you full and satisfied. You can even trade the ricotta for Greek yogurt for a sweeter taste.
Apples are great, wine is great, so together they are even greater. Adding a variety of fall favorites can really step up your sangria game too. Tangy pomegranates, spicy star anise, sweet caramel or fresh cinnamon sticks not only add dashes of color, they bring bold flavors to a traditional drink.
Fennel, Pickled Onion & Apple Salad
A twist on a classic salad with sweet, sour and crispy components ideal for any dinner party or fall gathering side dish.
For a less healthy option, but probably more delicious, these apple crisp shortbread bars will hit the spot. A perfect fall treat packed full of apples, cinnamon and brown sugar.
Pumpkin Ravioli in Apple Sage Butter Sauce
Savory, crunchy and sweet are the perfect combination for a delicious fall dish. To save time, cook up the sauce and top it off on any pre-made pasta dish for
These apple chips are great for on-the-go healthy snacks or after dinner treat. Easily baked in a low heat over, these tasty treats can be popped into the dehydrator as well. Looking for something less sweet? Add a dash of cayenne to your chips for that sweet and spicy combo.
You could basically put this deliciousness on anything, what we recommend it with some French toast, ice cream, roasted chicken, sandwiches, with a spoon, the list goes on and on.
One of the simpler dishes, and a Friday night favorite, is pizza. Go gourmet and add try adding apples, bacon and caramelized onions to your pizza pie. Other great combination to try out: goat cheese, apple and arugula; blue cheese, apple and bacon; apple, butternut squash and sage; apple and prosciutto. The possibilities are endless.