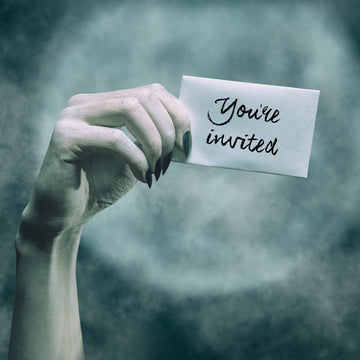 As the leaves turn vibrant shades of orange and the air grows crisp, it can only mean one thing: Halloween is right around the corner! It's the time of year when ghouls, ghosts, and goblins come out to play, and what better way to celebrate than by throwing a Halloween party that's sure to leave a lasting impression? One of the first steps in ensuring a spine-tingling gathering is crafting and sending out the perfect Halloween party invitations. Let's delve into the art of creating invitations that set the tone for a truly spooktacular event.
Set the Tone:
Before you even pick up a pen or click a button, consider the theme of your Halloween party. Are you going for a haunted mansion vibe, a classic monster mash, or a more whimsical costume party? Your invitation design should reflect the mood you want to create at the event. Choose colors, fonts, and images that align with your chosen theme to give your guests a sneak peek of what's in store.
Create a Killer Design:


In the digital age, you have a plethora of tools at your disposal to design invitations. From graphic design software like Adobe Photoshop or Canva to online invitation generators, you can tailor your design to suit your vision. Incorporate elements like bats, witches' hats, pumpkins, and cobwebs to infuse that eerie Halloween spirit.
Craft Wicked Wording:
The words on your invitation are just as crucial as the design itself. Craft a spooky verse that captures the essence of your party. For example:
"Join us if you dare, 
For a Halloween scare! 
Ghouls and ghosts will gather near, 
As we celebrate with eerie cheer!"*
Remember to include essential details such as the date, time, location, dress code (if any), and an RSVP deadline. If you're going for a more formal gathering, your wording should reflect that as well.
Choose Your Medium:
Decide whether you'll be sending physical or digital invitations. Physical invites can be a delightful touch, especially for those who enjoy tangible keepsakes. Digital invitations, on the other hand, are convenient and can be easily shared through email or social media. Whichever you choose, make sure the medium aligns with your party's style and your guests' preferences.
Personalize and Customize:
No matter the format, make your invitations personal. Address each guest by their name to add a special touch. If you're tech-savvy, you might even create a video invitation or an interactive online experience that leaves a lasting impression.
Send Out the Haunts:
 Photo: Etsy.com
Timing is crucial. Send out your Halloween party invitations at least 2-3 weeks before the event to ensure your guests have enough time to plan and RSVP. If you're planning a more elaborate affair, consider sending "save the date" notifications even earlier.
Follow Up:
As the RSVP deadline approaches, don't hesitate to send a friendly reminder to those who haven't responded. This will help you finalize your guest list and make necessary arrangements.
Embrace the Digital Age:
For a more eco-friendly approach, consider using digital RSVP platforms. This not only reduces paper waste but also makes it easier for guests to respond, as they can do so with just a few clicks.
Build Anticipation:
In the days leading up to your Halloween party, build excitement by sharing sneak peeks of your decorations, costumes, and any fun activities you have planned. Use social media or group chats to engage with your guests and keep the anticipation brewing.
Deliver a Memorable Experience:
Remember, your Halloween party starts the moment your guests receive those invitations. The effort you put into creating and sending them will set the stage for a hauntingly good time that everyone will remember.
So, let your creativity run wild, and let the invitations serve as a glimpse into the spine-chilling soirée that awaits. With careful thought and a dash of Halloween magic, your invitations will ensure that your party is the talk of the town, long after the last jack-o'-lantern has flickered out.