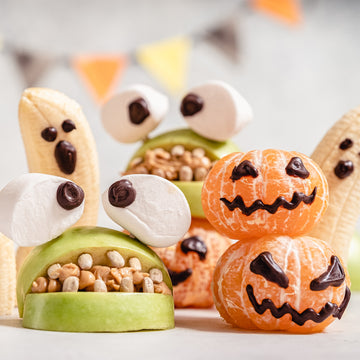 Halloween, the spookiest time of the year, is just around the corner, and it's time to get creative with your snacks! Whether you're hosting a Halloween party, preparing treats for trick-or-treaters, or simply looking to indulge in some eerie delights, we've got you covered with a ghoulishly good lineup of Halloween snack ideas that are sure to delight both young and old. So, let's dive into the cauldron of culinary creativity and conjure up some devilishly delicious treats!
Witch's Brew Punch
Start your Halloween party on a bewitching note with a refreshing Witch's Brew Punch. Combine green Hawaiian punch, lemon-lime soda, and sparkling cider for a fizzy and eerie concoction. Add some gummy worms and floating plastic spiders for that extra creepy touch.
Mummy Dogs
Turn regular hot dogs into adorable mummy dogs by wrapping them in strips of crescent roll dough. Leave a little gap for the eyes, and use mustard or ketchup to create spooky peepers. Bake until golden brown, and you have a snack that's ready to unravel!
Deviled Eyeballs
Create Deviled Egg Eyeballs by transforming eggs and olives into eerie eyeballs. Slice the eggs in half cutting out a hole for placing the olive. Add a tiny slice of red bell pepper in the center to create the bloodshot effect. These savory treats will watch you wherever you go!
Candy Corn Parfaits
Layered in Mason jars or clear glasses, Candy Corn Parfaits are a sweet and visually stunning treat. Alternate layers of orange and yellow gelatin, with whipped cream or yogurt, for a dessert that captures the spirit of the season.
Spooky Spider Cookies 
Bake a batch of chocolate chip cookies and decorate them with black licorice legs, or drizzle chocolate, and candy eyes to create Spooky Spider Cookies. These creepy crawlies will add a fun and frightful touch to your Halloween dessert table.
Ghost Banana Pops
For a healthier option, take a frozen banana, dip in white chocolate or yogurt, add chocolate chip eyes and mouth and freeze. These ghost banana pops are as nutritious as they are cute.
Graveyard Brownies
Prepare a batch of chocolate brownies and turn them into a graveyard scene by topping them with crushed chocolate cookies as dirt, Milano cookie tombstones, and gummy worms emerging from the "graves." It's a deliciously macabre treat!
Halloween is the perfect time to let your culinary creativity run wild, and these Halloween snack ideas are just the beginning. Whether you're crafting a spooky soiree or simply adding a touch of Halloween magic to your everyday snacks, these ideas are sure to delight your taste buds and add a dash of frightful fun to your celebrations. So, grab your cauldron and get cooking, because Halloween is all about treats, tricks, and making unforgettable memories!