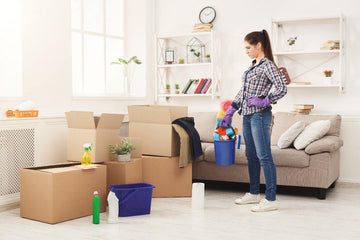 It's that time of the year again to freshen up your home and sort through the piles of stuff that have collected in your closets, garages, attics and basements. One of the best feelings of spring, besides grass pushing its way through the endless snow-covered ground, is de-cluttering and re-organizing your home. We've come up with a few tips and tricks to help get the job done.
How to sort items to get rid of
Getting rid of items can be difficult, determine when you last used the item, or when you will. Was it gift? Does it hold a fond memory? Is it one of those things you'll "eventually" use? We hate to be a cliché but Marie Kondo obviously knows what she is doing, so take her advice. Take your items and apply the Marie Kondo Method, it's one of the easiest ways to determine between keeping or tossing an item. Remember to donate to your local donation center or gather all your stuff up and have a yard sale.
How to repurpose older and used items
Sometimes old items just need a facelift to give them a new look. Painting or staining old furniture for an updated look can vamp up a space for a cohesive look or a new standout. Taking clothing you no longer wear and make something new; there are hundreds of tutorials for taking old t-shirts and turning them into swimsuits, creating play dresses for little girls out of dad's button-ups and so much more.
How to decide what to keep for a later date
There is nothing wrong with wanting to keep items that you know you will eventually use. Seasonal items can be a big element on this list. Clothing or decorations should be properly stored away until they are needed, keeping them safe and in one easy to access place as you switch seasons. Having an organized place for these items make it easier to remember they are there, projects can get tossed aside so putting them in plain view or a designated spot will help with this.
The importance of a good deep clean
Curtains, blinds, ceiling fans, back of the fridge, base boards all those places you neglect while cleaning your home should be complete to help give your home the care it deserves. Vinegar and water are always a safe way to clean and natural way to clean. Here are some other homemade cleaning products to help clean almost any surface.
A different approach to tackle spring cleaning
Starting spring cleaning can be a major task to take on but defining each step and making it manageable can help relief some of the more daunting tasks. Making lists and breaking down the order of jobs can help delegate chores and make sure you don't miss anything. Going room by room can make large tasks feel like small victories. When a room is sorted and clean, shut the door to help remember which rooms have been complete.