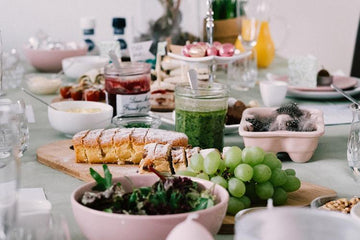 Spring is officially upon us and with the change of the season comes the change of décor. Time to pack away the Valentine's, St. Patty's or dare I say Christmas decorations, and bring out those pastels and get ready for Easter. Whether you are looking for a fun or elegant look this Easter, here are some ways to decorate your tabletop for brunch, dinner or the spring season.
Bunnies & Eggs
From Etsy
Great for children (and adults), a spread of playful bunnies and colorful eggs creates a fun table for everyone to enjoy. Bunny plates, statues or candies add elements that are both amusing and tasty.
Natural Simplicity

A combination of burlap, linen and lace create a beautiful tablescape, without being flashy, allowing the holiday to be enjoyed worry free. A simple table runner, decorative napkin, or small flowers like babies breath bring subtle elements of spring.
Sophisticated Pastels
via Instagram
Vintage and pastel dinnerware can go a long way for a sophisticated look. Small spring elements such as flowers or rabbits popping up in discrete locations keeps the spread themed without being tacky.
Blossoming Spring
via Shairoom
Bring the outside in, gather your potted plants, outdoor foliage and create a centerpiece perfect for celebrating the season. Placed in vases, planter boxes or arranged neatly down the center of the table are a few great ways to present your plants. Add floral decor to napkin ties, plates or name tags as well.