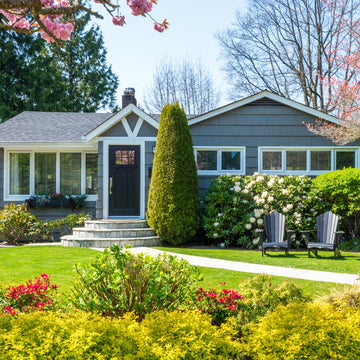 It seems as though spring is finally here to stay which means spring cleaning. Hopefully your annual spring cleaning check list is under way and all closets, drapes, and baseboards have been cleaned. While refreshing inside of your house is important, so is freshening up the outside. Luckily Zillow has a Seasonal Home Maintenance Checklist with great ideas for getting your house ready for the spring.
Cleaning Your Gutters
Since gutters control the flow of rainwater and snowmelt, it also helps protect your roof, siding and foundation of your home. It is important to keep your gutters clear so they can properly do their job. Leaves, branches, and other debris can get caught causing backups or clogs in your gutters. So to keep them flowing smoothly clean out your gutters twice a year, preferably in the spring and fall.
Trimming and Pruning Your Trees
Now that the snow has melted you can finally see your yard, or all the debris that has fallen. Its important to take a look at your trees and trim off any dead or falling branches, or look for illnesses on your trees before they become a problem. If you aren't sure what to look for, call an arborist for an expert opinion.
Freshen Up Your Paint
Peeling and chipping isn't good for your home. Touching up these patches or just repainting the entire house can help your curb appeal and the longevity of your siding. Spring is the perfect time of year to repaint as well since temperatures are milder and rain less frequent, which can damage exposed surfaces.
Clean Out Your Flower Beds
Through the winters, your flower beds probably got a bit disheveled or some leaves left over from the fall. So start anew, clear out any dead leaves and debris, along with cutting back any dry foliage.
Add Fresh Mulch or Gravel  
To add a polished look to your gardens and yard be sure to bulk up your mulch and gravel that can get depleted over the winter months. A fresh layer of mulch and soil will help retain moisture and your yard will thank you, and your curb appeal with go up a few points.
Wash Your House
To welcome in the spring, wash away all the winter ware from your home's exterior. Give it a good scrub by cleaning windows and screens, using a hose and mild detergent that won't harm your landscaping or strip your exterior paint. This can include your deck as well, replacing any rotting boards, give it a good power wash and possibly a fresh coat of stain or paint.
Pest Control
With spring and summer months comes the abundance of life, this also includes bugs and pests as well. Be sure to check your home for termites, mice, ants, and other critters and insects that can damage a home. Best way is to hire a pro to spray or check your home.