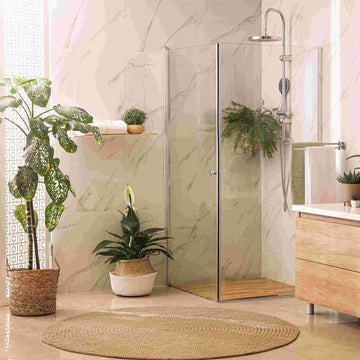 This winter may seem endless, but that doesn't mean you can't start giving your indoor space the uplifting and fresh look it desperately needs. As we start to leave our hibernation and the dark dreary cold days of winter, it is time to start pulling out the florals, gingham and other spring foliage designs and soft pastels and other bright color palettes we love.
As our days begin to lengthen and we want to spend more time outdoors, so does the feeling of renewal and change. That also applies to your interior décor as well as our wellbeing. Although there aren't necessarily rules you need to follow, it is more important what makes you happy in your own space. With that in mind, we want to help you feel inspired with your home décor by bringing you some ideas and trends for any space in your home to add a bit of spring.
Bringing Nature Inside:
With foliage starting to bloom outdoors, we can bring our love for spring indoors as well. Incorporate different materials such as rattan, cane, or jute in your furniture or accessories. Add miniature greenhouses or conservatories, or even start your outdoor garden inside. You can even bring in branches, flowers and other foliage from your yard and incorporate into a vase or bowl for a unique arrangement.
Create A Retreat:
Anyone else wanting that endless feeling on relaxation and restoration? Any place in your home can feel like a retreat with extra added touches. Add a bench with rolled towels in your bathroom. Toss an extra pillow or throw onto your couch. Spread fresh flowers throughout your space. Or even as simple as adding a rattan lamp. By adding these small details to bedrooms, bathrooms, or living rooms can feel like a new space we want to escape to.
Pops of Color:
This year, soft greens and soothing blues are trending, along with beiges and browns. Adding pops of color on your trim, doors, throw pillows, blankets, or even artwork can create a calming and sophisticated spring touch to your home.
Living Outdoors:
Now more than ever people are focusing on their outdoor space as another livable space for the spring and summer months. Simple additions such as outdoor fireplaces, a lounge area, small gardens to large additions like swimming pools and pizza ovens, you can transform your outdoor space, making it as livable and inviting as your indoor space.