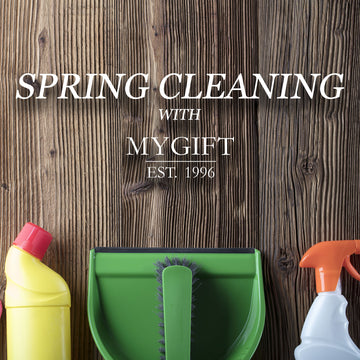 The dreaded, but necessary, spring cleaning is starting to creep into most of our minds. While the weather outside is getting warmer, you might be ready to start opening windows, dusting out the winter cobwebs, and cleaning up for the new season. But do you ever think about those items that don't get cleaned as much as the typical bedding, bathroom, kitchen? We've tackled those hard to reach and unexpected places to clean, so your spring cleaning is a light airy, refreshing breeze.
Doormat – Probably much used through the fall and winter months, your doormat might be in serious need of cleaning. Hose off any outdoor mat and simply allow them to air dry. Indoor mats can either be put through the wash or vacuumed, both sides, for a refreshing entryway to your home.
Ceiling Fans & Light Fixtures – Easy to reach with an extendable duster, you can even tackle a ladder and rag to get those hard to reach ceiling fans and light fixtures. When you start cleaning, be sure to start here since the dust could fall to the ground, and have the floors be the last thing you clean.
Brooms – The next time you reach for your broom you won't just see it as a giant dust bunny. Some warm water and light soap and a quick vacuum afterwards, your broom will look brand new.
Vacuums – Empty our your bags and snip out the caught hair or threads from the bristles. You can even go as far as to take it apart and wash each piece. Be sure to let them completely dry before putting it back together.
Filters – The air in your home is important, so changing out your filters should be a regular occurrence. Whether its air purifiers, your HVAC system, or air conditioners, keep an extra filter handy for switching them out, or give them a good vacuum in between changes.
Electronics – These ones might be the dirtiest items we own. We take them everywhere, grocery stores, work (admit it, even the bathroom), so these should be cleaned from time to time. Power them down and give a microfiber cloth a good spray of disinfectant spray (do not spray directly onto your device), wiping it again with a paper towel or dry cloth. Consider this for your television remotes, laptops, and computer mouse.
Purses and handbags – These can get cluttered quickly, and with all the holiday shopping you did, you might have some receipts floating around. Empty out your bag and throw away anything unnecessary. Consider placing smaller items such as lipsticks, hand sanitizer, or other essentials in smaller pouches, making your bag less cluttered and items easier to locate. Give it a good wipe, inside and out, with a sanitizing wipe or quick vacuum.
Trash Cans – Although trash bags hold much of the odor coming from garbage's, the can itself should be cleaned out from time to time. Some dish soap and a sponge usually do the trick, and for quicker cleans, you can use the hose to spray it clean. Dry with a cloth, and try to regularly sanitize in between switching bags.
Outdoor Furniture – This one is just exciting, it means warmer days ahead and outdoor lounging. Simply take some warm water, a dash of liquid dish detergent and wipe down the furniture and spray them down and let them dry.