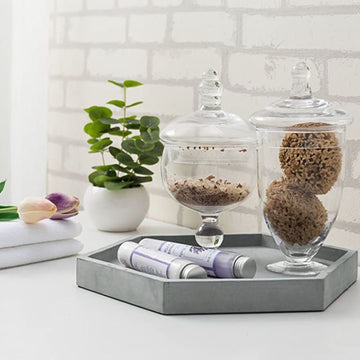 It's the least sought out place to clean and requires a bit more attention than vacuuming or sweeping. But this room has the most visited space in your home. The weekly task of deep cleaning the bathroom and the manual effort required for scrubbing the toilet, tub, and sink can feel much more like a chore than other rooms to clean. We've gathered some tips to make cleaning the "royal throne" a little more manageable.  
Weekly & Daily Tasks
Ideally you should clean your bathroom once a week but maintain the minimum daily. At a minimum you should wipe down and de-clutter your counters daily. This means toothpaste stains, stray hairs, makeup, those daily tasks that require some cleanup afterwards. Weekly tasks should be more involved, removing everything from the counters and cleaning and drying all surfaces. Those daily tasks make the weekly ones less daunting and take less elbow grease. Showers can be rinsed and dried quickly with microfiber cloth or squeegee, helping them stay dry and make mold and mildew less likely to grow in between your weekly cleans. You can also help prevent mildew by combining a tablespoon on baking soda and water into a spray bottle and spray tiled surfaces and allow them to dry.
Regularly laundry your bathroom rugs and towels to keep your bathroom smelling fresh. Towels should be washed after two to three uses, and bath rugs and mats can be monthly, and show curtains every two to three months, if you are keeping your shower dry.
Top To Bottom
When you clean your bathroom, you should clean it from top to bottom. This means starting with the walls, shower, counters and making your way lastly to the floor. First remove the items from the bathroom such as shampoos, soaps, toothbrushes, any items on the counters and place them outside the bathroom so they are out of the way. Next you should apply cleaner to any places that can have buildup, such as showers, tubs, faucets, allowing the cleaners to soak in.
While you are waiting for the cleaners to sit, tackle the other surfaces, shelves, counters, windows, sinks, toilets, mirrors, then head back to the shower to scrub it all down. Once you've finished all the surfaces, sweep and mop the floors and replace all your items.
Most Important Tools
Gloves, a two-gallon bucket, non-scratch sponge, spray bottle, and a cleaning caddy to hold all your supplies. Other tools to keep around are toilet brush, broom, mop, rags and paper towels. Make sure all your cleaners are close by, glass cleaner, all-purpose spray and toilet bowl cleaner just to name a few.
Start to incorporate these small tips into your bathroom cleaning routines and you'll soon want to clean the bathroom, or just make it easier on yourself.