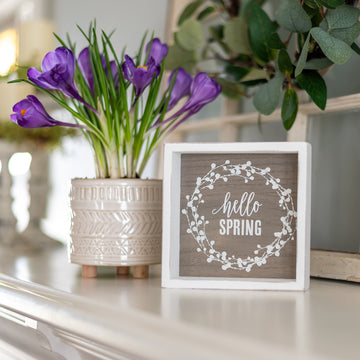 Anyone else ready for sunshine? We are! It can be exciting and fun to switch up your home décor for each season, even if it is just a few key accents. So ditch the winter blues and get ready for spring by switching up your home décor with these simple tips.
Textiles and Colors
Lighten up your throw pillows, blankets, curtains and bedding to spring pastel hues or patterns. Soft linens and floral patterns are a great way to invite spring, but even gingham print can play a part in livening up your décor. Since seasons are still in transition try to layer spring colors with icy winter ones, then once spring arrives you can go full blown color.
 Lighting
During the winter months we tend to want to close windows to keep out the cold drafts, but it's time to let in the light. Allow the natural light to shine by pulling back your curtains or changing them for lighter fabrics. You can even add mirrors to allow the light to bounce around a room, giving the illusion of more light in your home if it is lacking.
Add Greenery
Whether its faux or real, scatter those vibrant plants all around your home. Get bright colored planters or even more neutral whites and beiges to bring a spring tone in. Try subtle floral arrangements or just greenery on your table or counter to give a nod to the spring weather ahead.
Declutter Your Space
To keep things fresh and crisp take away the extra stuff. Minimalizing your space will bring that extra breath of fresh air that invites spring in. Box things up or tuck them away in stylish baskets or drawers to keep them until winter comes back around.