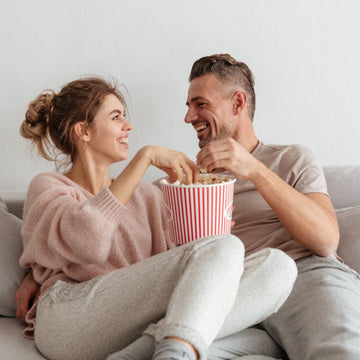 Ditch the typical roses and chocolates and plan something memorable this Valentine's Day. From romantic to casual to spending the night with your friends, we've got some amazing ideas sure to wow your date.
Staying In:
Whether you're a seasoned couple or just looking for something less stressful to do this Valentine's day, consider staying in and making home the house of romance.
Down for a round of Monopoly? Yatzee? Break out the board games for a competitive way to celebrate your love. Want to make it interesting? Wager candy or for a more adult version, strip-opoly or strip-poker, basically any game can be turned into a way to get your partner in less and less clothing items.
Get take-out and binge watch your favorite TV show. This means less dishes to clean and more drama, comedy or romance series to catch up on.
Ask each other questions. If you're in a new relationship or been together a while, creating fun questions can let you get to know someone better or maybe something new you never knew about your significant other. Having trouble coming up conversation starters? Check out some online or get of one the many books available on such topics.
Take a bubble bath. Set up candles, play soothing music, add a bath bomb, and enjoy a rubba-dub-dub with your bf/gf. Be sure to bring a bottle of champagne or wine for ample relaxation.
Arts & Crafts time. Make homemade Valentine's cards, macaroni portraits, basically act like your back in kindergarten with fun sparkles and crayons. Or go a bit more sophisticated with macramé or adult coloring books.
Romantic:
Looking for something to keep sparks flying? Take up one of these ideas to keep your significant other swooning.
Cook dinner or dessert for one another. Whip up a romantic dinner full of wine, candlelight and hand holding. Nothing says "I love you" like slaving over a hot stove all day.
Make a picnic. Gather the cheese, crackers, grapes and meats and head to a local park or take a quick drive to a secluded beach. Spread out the blanket and enjoy the company of one another while lounging outdoors.
Ballroom dancing. A smokey salsa or tantalizing tango can add just the romance you need to a date while learning a new skill. Even if you have two left feet, holding hands and swaying to the music
Spend the weekend away at a cozy bed and breakfast. Order room service or explore a new town, get a massage or jump in the Jacuzzi, a B&B can be the perfect little get-away. Why not take a break and enjoy the finer things, like not cooking breakfast or making your bed.
Adventurous:
Not for the faint of heart, trying something new or extravagant can really push your relationship forward. Skip the dinner and a movie and go scuba diving or base jumping, or if you're looking for something that doesn't involve putting your life at risk, check out some of these great date ideas.
Take your date outdoors. Hiking, biking, kayaking, heck even fishing can be romantic (if you're into that sort of thing), for your first or 100th Climbing mountains or exploring forests make for a unique date and you get to show off those survival skills.
Theme park. Rollercoasters and cotton candy can bring back nostalgia and let you be a kid again! Make sure to offer to win her/him a prize, because the night at a theme park or carnival should end with a giant stuffed animal.
Bust out the ballads and go sing karaoke! Take your loved one on a date they will never forget while getting to belt out Katy Perry or Celine Dion. Don't worry if you're tone deaf or have never done karaoke before, that's what makes it adventurous, and let's face it, no one really sounds good singing karaoke.
Check out a psychic. Already interested in how this relationship will end? How many kids you'll have? If you'll finally get that job promotion? Well, maybe stick to the love questions, but going to a psychic to read your cards or palm can be insightful and way fun.
Indoor skydiving. Much less scary than jumping out of a plane, but just as fun, try indoor skydiving for a thrill, and jumpsuits are totally in style.
Casual:
Not the established couple yet? Or just looking for something that doesn't scream "Lovey Dovey", these casual activities are perfect for first dates or new relationships to get to know each other better while trying something new.
Take a cooking class. Try whipping up a new cuisine ofBoeuf Bourguignon, Confit de canard, Chocolate soufflé, basically anything with a fancy French name. Local cooking classes allow an instructor to lead the while you and your special someone can flirtatiously whip, sauté and flambé your newfound culinary skills.
Go see a show. This can mean anything from a comedy show, improv, local play, opera or music concert. Whatever the two of you will enjoy the most together. These shows are a step away from the usual movie, but still allow you to enjoy a more casual setting together.
Go shopping. Ok, we don't just mean spend a day at the mall, pick somewhere fun like the farmer's market, antique shops or Kamasutra shops. It can be casual yet fun browsing products and sharing witty banter while picking out fresh plums or finding a one of a kind art piece.
Pick out a plant together. A little less involved than picking out a pet, purchasing some greenery, potting soil and planters can be a fun activity for both parts and you get a cute new plant out of it.
Girls/Guys Night:
Single and want to spend this Valentine's not eating a pint of cookie dough ice cream? Gather your best buds and try out one, or all, these activities.
Pub crawl with a theme. Do a scavenger hunt, go only to the bars that end in "O'Malley", spot everyone wearing pink, all dress up as your favorite literary character, just change up the regular pub crawl to something more exciting!
Food trucks. Find all the best food trucks in your city and try them all! Make a list and compare the cuisine or just try something different at each place, but make sure to end the night with churros, or donuts, or both.
Da club. Hit your favorite dance club or try a new joint and dance the night away.
Be a kid again. Go laser tagging or to the arcade, eat candy and pizza all night and wear onesie pajamas while doing it.