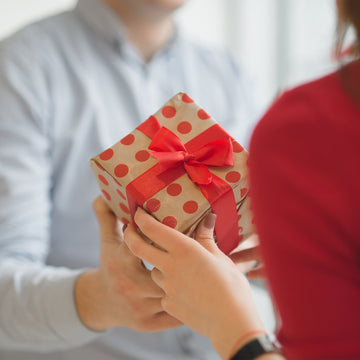 Guys never ask for much, and Valentine's Day can put a lot of pressure on what to get them. But it doesn't need to be elaborate or stressful. Why not think about getting them something extra special this Valentine's Day that they can use all year long! We've got the perfect list of 14 lovable gifts for any guy.
Scotch-Infused Toothpicks Gift Set – If your guy loves scotch, he's going to love these scotch-infused toothpicks. A subtle taste of single malt scotch, these toothpicks will keep his teeth clean with that smooth finish.
Breville Bambino Plus Espresso Machine – Want that bold, fresh, rich flavor of espresso everyday? We know your man does! This mini breville espresso machine is just the right size for any kitchen, and your daily latte order just got even easier!
Murdock London Cologne Collection – A perfect sample set of 4 different colognes to make him smell great and to better choose his own personal scent.
Beer Tasting Glasses and Flight Serving Board – Ideal for the beer aficionado, this sample tray and glass set allows your man to sample a variety of ales, sours, lagers, stouts, and other craft beers all at once.
Nike Retro GTS – No frills needed for this classic Nike sneaker. Styled similarly to the 1996 skater shoe, this relaxed canvas shoe is a great addition to his closet.
Red Heart Print Boxers – Boxers or briefs? The age old question, but it doesn't matter when they are this stylish and comfortable!
Blue Yeti USB MIC – great for gaming, streaming, or recording, this mic is one of the best out there.
Back and Neck Massager – Let him relax in this valentine's, and every day after, with this convenient back and neck massager.
Carhartt Work Gloves – Keep those hands pristine with these tough and durable synthetic suede gloves. They can do anything from pulling weeds to carrying wood with ease.
Premium Watch Storage Case – keep his timepieces dust free and stylishly displayed with this watch storage case. Small pillows make storing watches simple, while the clear acrylic window lets you choose which watch you'll wear next.
Manual Pasta Maker – if the stomach isn't the way to a man's heart, I don't know what is! Make your next pasta night one to remember with this pasta maker machine.
CB2 Oil – A natural alternative to help you keep calm, sleep, recover, for a great nights sleep.
The Quencher H2.O Flowstate Tumbler – This tumbler is so popular, it is almost always sold out, so get him something he didn't even know he wanted until his thirst and quenched.
Table for Two – A cookbook full of recipes to cook for the people you love.