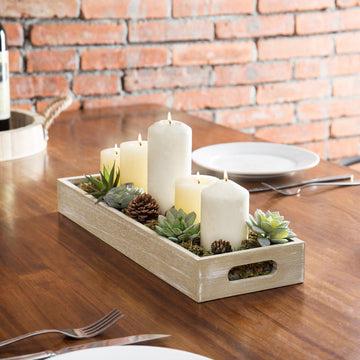 Candles do more than just create an ambiance. They can create memories, or bring back old memories of family gathering for holiday festivities or baking cooking with grandma. We've compiled the best holiday scents to fill your home and warm your space with holiday cheer!
The Best Holiday Candles
Apple Cider

Mrs. Meyer's Clean Day
Embodying the essence of fall, this apple cider scent is the perfect crispness of apples with an overlay of fall spices, without being overpowering on either note. Not only does this delicious smell come in a candle, you can get it for your hand soap, dish soap, room freshener, and multi-surface cleaner.
Leaves

White Barn
The crunching of leaves under your feet, and piles to jump in, Leaves bring that warm fall feeling into your home. Made with natural essential oils and combining apples, golden nectar, and warm clove spices, this 3-wick candle will fill your room with everything you love about fall.
Toasted Pumpkin

Brooklynn Candle Studio
With minimalist designed and a symphony of perfect scents, this eco-friendly 100% soy wax candle adds pumpkin flavors to your space. Notes of toasted pumpkin seeds, nutmeg, clove, cardamom and cinnamon, its like a pumpkin pie wafting through your home, without the hassle of making one yourself.
 
Autumn in Amsterdam

Goose Creek
Who knew you could capture the scent of Amsterdam's famous canals and picturesque fall colors in a jar, but it has been done. Citrus scents, combined with apples, black currents, with a hint of sandalwood, can be carried through your home while you imagine drifting along the river or riding your bike on the cobblestone streets.
Winter Spice

H&M Home
Warm and sweet float through the air when you light this winter spice candle. Accompanied with a red glass jar and cork lid, this candle will bring a smoothing, calm and fresh scent to your winter season.

Feelin' Salty

Sonoma Goods for Life
Another fall flavor is caramel, but not just any plain caramel that salty sweet caramel you get when you visit an apple orchard or grandma has made for years when you come to visit, that caramel. The decadent scent on butterscotch, caramel and toffee wrapped up in the perfect candle. A candle so tantalizing, you'll be tempted to taste it, but please don't.
Pumpkin Spice

The Happie Place
You really can't enjoy fall without the pumpkin spice-something, we've opted for the candle. 100 % soy wax and hand poured, this perfect fall candle as the note profiles of sweet pumpkin and buttercream with hints of clove, cinnamon, nutmeg, and vanilla base notes.
Cypress & Fir

Paddywax
Bring the aroma of a fresh forest into your home with this cypress and fir scented candle. Top notes of lemon zest, bergamot, middle notes of cypress branches, Douglas fir and pine garland with base note of sandalwood, vanilla bean and mistletoe leaves, this candle can't help but evoke feelings of cozy fireplaces, warm gatherings of friends and family, and cypress trees, and will burn brightly through the holiday season.
Thanksgiving Feast

DW Home
If you are thinking this candle is a plate full of mashed potatoes, sage stuffing, salted gravy all topped with cranberry sauce, then you'd be right. Why have to enjoy your Thanksgiving dinner only one night, although usually you have weeks' worth of leftover, but let's not count that, just enjoy the scent of whipping up your Thanksgiving feast all holiday season.
The Nutcracker

Homesick
With visions of sugar plum fairies dancing and stoic Nutcrackers standing guard against the Rat King, this holiday scent is the perfect way to enjoy the classic ballet in the comfort of your home. Spicy clove, sweet vanilla and warm ginger will create the scene of the nutcracker right before your eyes.
Holiday Candle Holders 
Pair these and other fall scented candles with decorative candle holders to match your holiday décor on your mantle, table, or shelf:
Metal Pillar Candle Holder from H&M Home
Mid Century Lantern from West Elm (available in small, medium, and large)
Draper Bronze Pillar Candle Holder from Pottery Barn (available in small and large)
3 Pillar Candle Holder with Rustic Wood Tray from MyGift
Brushed Gold Metal Contemporary Pillar Candleholder from World Market
Rustic Brown Wood and Metal Candle Tray from Home Depot
Audrey Lantern from Anthropologie (available in small and medium)
Galvanized HOME Tealight Candle Holders from MyGift
What is your favorite Holiday scent?