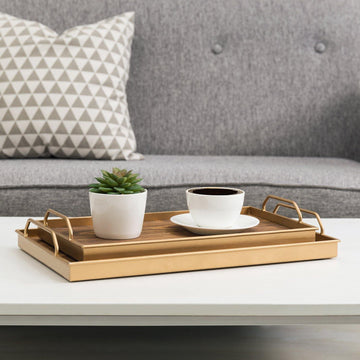 Great for decorating spaces and creating platters of delicious desserts, serving trays are a perfect way to add both stylish storage and decorative appeal to a space. Whether you are looking to add organization or decor to your room, consider these great ideas to utilize serving trays in a variety of unique and useful ways.
Living Room
Ottoman – With a soft surface your ottoman might need something sturdy for keeping drinks or candles. Choosing a tray to match the shape of your ottoman, square with square and rectangle with rectangle, allows more space to be utilized and can be easily removed for feet to comfortable rest.
Coffee table – Assigning a specific place for books, magazines, as well as television remotes or beverages can keep your coffee table look put together while adding functional storage.
Kitchen
Bar area – Display your mixers, cordials, liquors, and shakers in a unique an elegant way beeping them on a stylish tray. Perfect on a bar cart or directly on the countertop, trays in the bar area will work wonders for your storage as well as serving cocktails once they are concocted.
Dining Table – Tabletop centerpieces have never looked so elegant than on a decorative tray. Candles, faux plants, flowers or acorns are a great addition to your tray, as well as vases or serving dishes.
Countertop – Keep anything from coffee and tea accessories to spices and condiments, serving trays are a wonderful addition to your countertop. Store bottles of wine, elegant vases with flowers or other
Bedroom
Dresser – When getting ready in the morning, or for an evening out, a dresser tray can be utilized for cuff links, perfumes, ties or scarves for adding the extraje ne sais quoi to your outfit.
Nightstand – Cell phones, wallets, loose change, and other pocket items can easily get lost or tossed somewhere and quickly forgotten. Don't let those important receipts or chap sticks roll away, get a small tray or valet to keep near your nightstand.
Bathroom
Countertop/Vanity - Keep all your lotions, creams, toothpastes, or face masks for your nightly routine or your rings, bracelets, and other jewelry items, it also makes your accessories look super chic.
Office
Papers can get cluttered and file folder disorganized, but not when you have a tray to keep them properly stored and easily accessible. Tray and rectangular or stacking trays for optimal office storage. You can also store crafts, school supplies or office accessories in trays as well. 
Searching for the perfect tray for your home? Check out our online store!