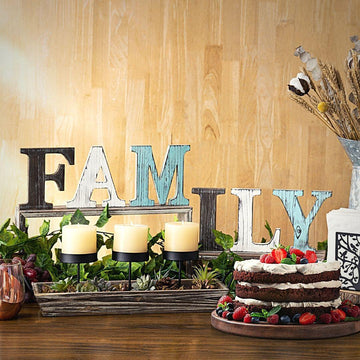 Creating the perfect table for Thanksgiving can be more just as important as the food you place upon it. Creating a welcoming, family-inspired table doesn't need to be a challenge, whether you are hosting for your immediate family or something a bit larger, don't skimp on the beautiful table-scape for your Thanksgiving feast.
Place Settings
Keep in mind what foods you will be serving at Thanksgiving dinner. Salads? Make sure to keep a salad fork available. Serving soup? Have a spoon in your cutlery. For a more formal setting, keep your dinner and salad fork on the left side of the plate, knife on the right with a soup spoon next to that. Napkins go under the forks, or place on the plate with a napkin ring or folded in a decorative way. Since most of us will be having delicious warm rolls with melted butter, have a small plate above your main setting with a knife for your bread. For dessert, keep a small spoon or fork placed right above your dinner plate. Glassware should have white, red, and water glasses for each beverage to be consumed.
Centerpiece
Wood & Metal Family Sign | Rustic Multicolored Wood Family Letters | Acrylic & Wood Family Sign
Bring your loved ones together with warm family signs. Set them as your main centerpiece with a variety of leaves, acorns, flowers, or any other decorative greenery of your choice. Another great addition can be candles on a tray or wooden platform.
Drinkware
Luxury Angled Copper Glasses | Hammered Design Glasses | Gold Rim Highball Glasses
No matter if you are making fall-inspired cocktails, drinking savory reds, crisp whites or sweet apple ciders, you'll need the perfect vessel for your beverages. Consider a fun copper-toned, brass hammered, or gold-rimmed glasses to hold your drinks for the evening.
Name Card Holders
Glittered Pinecones | Corn Husks |  Cinnamon Sticks
Personalize your table with name cards for each of your guests. Nature can be the perfect addition to your table. Pinecones, leaves, acorns, rocks, can all become holders for paper name cards or change them into name holder themselves.