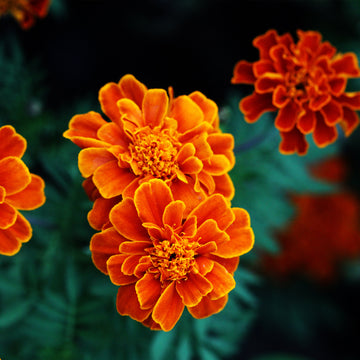 It is finally summer and with the warmer weather come longer days spent outside. The only downside to the rising temperature is the bugs that accompany it. Did you know that most of the most common plants hold properties that help keep mosquitoes, fleas, slugs, aphids and other insects and pests away? You might even have them in your garden already without even knowing their aiding properties. We've found 10 plants that contain insect-repelling properties that will be great for your yard and to help with those pesky, itchy mosquito bites.
Lavender – Beautiful and fragrant, this low maintenance plant is easy to grow and keeps mosquitoes, fleas, flies and moths away.
Catnip – The very plant your cats love, mosquitoes hate. They emit a chemical that acts as a natural insect deterrent.
Basil – Pizza, pesto, bruschetta, the same plant that makes our favorite Italian dishes, mosquitoes, moths, and flies hate. Love the smell of basil? You can rub it on your skin while working in the garden to help repell mosquitoes.
Alliums – Actually a member of the onion family, these puffy purple plants are great defenses against cabbage worms, carrot flies, slugs and aphids.
Mint – Another great mosquito repelling plant and cocktail additive is mint. But be careful, it tends to take over your garden wherever you plant it, so we recommend planting it in a pot and placing it near doorways.
Marigolds – One of the most well-known insect repelling plants, marigolds have a scent that will deter most insects and pests. French marigold varieties are good for mosquitoes and are relative low-maintenance plants.
Thyme – Great as a ground cover, thyme is great for roasted vegetables, meats, fish, and other savory dishes or even baking. Oh yes, and they keep mosquitoes away from your garden.
Lemongrass – a great natural alternative to DEET, lemongrass is full of citronella. You can even crush the leaves and rub it on your skin. We recommend testing a small area of your skin and waiting 15 minutes to be sure there is no allergic reaction.
Marigolds – Their scent keeps many insects away such as mosquitoes, nematodes, and they even attract insects like lady bugs that kill aphids.
Sage – Another mosquito repelling herb is sage. Known for its aroma, it is also good growing alongside vegetables to deter other animals from ravaging your garden.