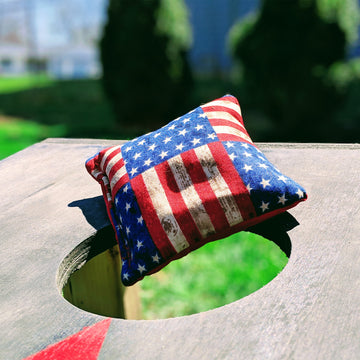 Need some entertainment between parades and fireworks on the fourth of July? Get your red, white, and blue on with these patriotic-themed games. So gather the grandkids, the cousins, and the rest of the family and get some friendly competition going with these Fourth of July games. Relays, using your wits, and creativity, we've got each one covered.
Flag Hunt
Think easter egg hunt but for small American flags. Scatter them around the yard or a park and have kids find and gather them up. The one with the most flag wins.
Abraham Lincoln Spoon Race
Two teams are designated to starting point with a finish line. At the starting line place a bowl of pennies with a spoon for each team, and an empty bowl at the finish line. Each person takes a turn filling the spoon with pennies and carefully dispensing them into the empty bowl. Dropped pennies need to be returned to the large bowl, who ever gets the most in the designated time wins.
Bike Decorating
Gather streamers, flags, stars, ribbon, and other patriotic decorations and let the kids decorate their bikes and put on their own little parade.
Water Balloon Toss
Fill up red, white, and blue water balloons and split up into two or more teams. Players face each other tossing balloons back and forth, each time someone catches a balloon you take a step back until your water balloon pops. The last team to not pop their balloon wins.
Giant Bubbles
Combining science and fun, these giant bubbles are sure to be a hit. Combine water, dish detergent, corn starch, baking powder, and glycerin. Take straws and string and start making giant bubbles. For the full recipe CLICK HERE.
Pin The Hat on Uncle Sam
Essentially the same as pin the tail on the donkey, Uncle Sam needs his hat and it's up to you to help him out. Download this FREE PRINTABLE to have your own version.
Name All 50 States
Put on a timer and have everyone get a piece of paper and pencil and try to write down all 50 states in the time allotted. The person who gets the most wins.  
Red, White & Blue Scavenger Hunt
Download this PRINTABLE GAME and get the kiddos (or adults) to go on a full patriotic scavenger hunt.