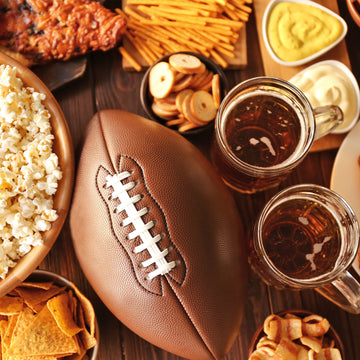 As you are getting ready for Super Bowl LVI this Sunday and starting to plan out your menu, we opted for some healthier options this year that won't have you regretting your decisions the next day. Think classic super bowl foods, but with a bit of a 2022 makeover. We'll hit every yard line with dips, fingers foods, and desserts will have you ready for kick-off to touch down, with these healthy options.
Dips:
Instead of cheese dip and greasy potato chips, go for a fresh Pica De Gallo or Guacamole with tortilla chips. Paired with crackers or bread, this a Healthy Spinach Dip is always a crowd pleaser. Go even healthier and bust out the veggie tray and French Onion Dip.
Finger Foods:
Perfect for a crowd, be sure to have an array of finger foods for people to choose from. Ditch the deep-fried wings and try these Crispy Baked Chicken Wings instead, or even Buffalo Cauliflower Wings for a vegetarian option. Wanting savory potato skins? Swap out for some Sweet Potato Skins, bonus is they look like little footballs! Another great finger food option is pizza bites, or in this case Zucchini Pizza Bites.
Desserts:
Don't skimp on desserts for you and your guests on Super Bowl Sunday, it's like missing out on all the really good commercials! But these recipes are both healthy and delicious! For some chocolate goodness, bake up these Hostess Cupcakes, ok not really, these ones are gluten-free and vegan and taste way better. You can even make them look like little footballs. Make a Fruit Football Tray with a tasty Brownie Batter Hummus dip, this one people will be coming back for seconds, and thirds, and possibly fourths. For a quick pick me up consider these No Bake Energy Bites, perfect for snacking before and after the game.